There have been a number of rack application that passed through time and it seems that it is a niche for who is interested in this type of applications. Never less the sheer possibilities of such an application has a wide reach of appliances and the people from Abeem aim to cater to this. The vast possibilities also require a certain technical level where you or someone helping you are comfortable setting up an environment to your own specific wishes. So lets put Abeem Rack proformer to the test!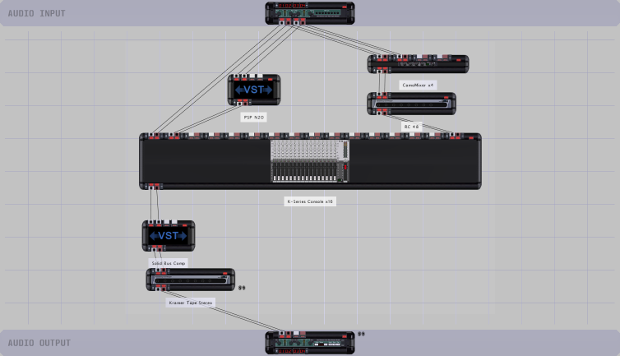 Modular environment
Unlike other rack applications Rack Performer is an entirely modular environment that can handle up to 32 inputs and outputs. So as a basic digital patch bay it is possible to route those 32 channels the way you like using presets selecting by a midi controller. If you have a audio interface with low latency ASIO drivers setting this up is fairly easy.
It also allows for VST plug-ins to be included into the environment. Either VST instruments as VST FX. With this version 1.01 I was testing it didn't allow for 64 bit plug-ins to be loaded. Not even with a 32bit JBridge when I tried. As well as UAD VST plug-ins only work in bypass mode but since UAD software version 6 the plug-ins are 64 bit only. To that regard the ability to load 64 bit plug-ins in a future version would be most welcome.
Central hub
The application has a number of building blocks which are mapable to midi signals. It also caters to midi output so the rack can function as a central audio and midi hub. It even supports time code if you need it. If you want to use external hardware it even allows you to take latency in account by detecting the latency or manually adjust latency compensation. The latency compensation in live or real-time applications has limited use because higher latencies will become noticeable.
So if you have external hardware with build in sequencers like a workstation, modular environment, Elektron or Roland Aira series and still want to use VST you can route audio and midi to the application and slave the tempo to the midi clock from the hardware. You then even can control the VST with midi controllers like a BCF2000. This way you can create an environment that is ideal for live venues.Note that setting up environments will take time and it does help following the tutorials.
Live venues
Or if you have a live venue and do not have a luxury (digital) mixer you still can create multiple monitor mixes for the band members including a click track for your drummer with just a laptop and your basic 8in/out audio interface.The onboard sample player also allows for audio for in between songs or the obligatory intro.
The amount of VST plug-ins or internal plug-ins of course is limited to the processor of the computer. To that regard if you have an old computer left because you upgraded to a new and faster computer or have a computer for just live setup you still can use that computer with an audio interface as a kind of multi FX or VST slave unit. Just hook them both up to a network and you should be able to control the slave computer via remote software like RDP or VNC.
Mastering console
Even as a digital mastering console you can incorporate external hardware with VST plug-ins and create setups. Taking into consideration that you need a high-end audio interface and pass through a couple of AD/DA stages. Creating dry/wet, mid/side, multi-crossover, side-chain or surround setups that no other application or analog mastering console can.
Updates
During several weeks testing on and off there were next to none noticeable glitches or crashes. As always YMMV as it also depends on the stability of the computer you are using. The 1.01 update improved the stability even more which is crucial for live venues. As to the graphics the application does not look as slick as many of the DAW's out there but you can choose to show the VST plug-in GUI or switch to the internal GUI to optimize the layout that extends to 8 different screens. I might help if you were able to snap modules into place in patch mode similar to display mode. With larger setups you tend to get a lot of components. In Reason and Reaktor you can create macro containers which would come in handy here as well. This is a 1.01 version so these kind of details might be included in later versions.
Conclusion
Even when it is only 32 bits for now this is the most powerful rack application out there. You still might find the odd VST plug-in that is not programmed up to the specifications or quality but you cannot blame the VST SDK or Abeem people for that. For the tech savvy people the possibilities are vast and it is anything but a one trick pony.
Wouter Veltmaat – Serious Mastering