IK Multimedia announced it's shipping iKlip Xpand and iKlip Xpand Mini, the next generation of microphone stand mounts for tablets and smartphones.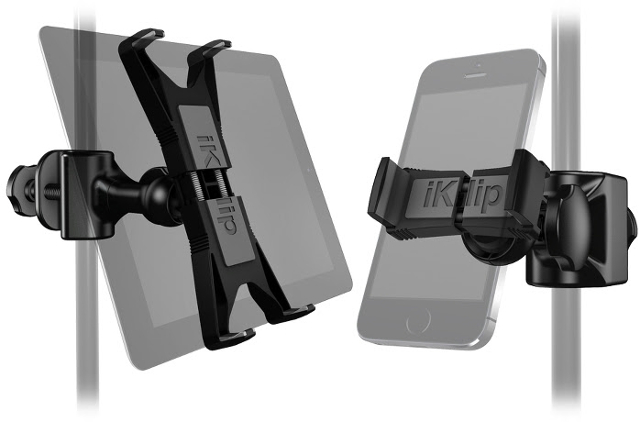 iKlip Xpand and iKlip Xpand Mini both feature an expandable spring-loaded bracket design with rubberised gripping points that can be extended to safely and securely hold a wide range of smartphones and tablets to a standard microphone stand pole or horizontal boom.
At the heart of iKlip Xpand and iKlip Xpand Mini there is an innovative design that allows them to accommodate a wide range of device sizes. iKlip Xpand holds any iPad – including iPad Air and iPad mini – as well as Android or any other tablets with a screen size from 7″ to 12.1″.
iKlip Xpand Mini holds any iPhone, Android or other smartphone – including large format "phablets" – with a screen size from 3.5″ to 6″. The expandable clamps allow for the use of devices with carrying cases still attached. Both feature a rubberised "soft touch" gripping surface that ensures a firm hold that doesn't scratch or mar your device's surface. They also feature a ball joint system that allows for precise positioning at any rotation or angle.
iKlip Xpand and iKlip Xpand Mini are available now from music and electronics retailers worldwide and from the IK Online store for $49.99/€39.99 and $39.99/€29.99 (excl. taxes) respectively.
For more information, please visit: www.ikmultimedia.com/iklip