Last year, Novation released the Launch Series. In order to further expand their popular controller line they have now included a compact controller line. It consists out of two nifty small controllers which are aimed at the travelling artists or that home studio where space is not available in abundance. The controllers are called Launchcontrol and Launchpad Mini. Both are full functional controllers in a small package. How serious can we take these compact units? Read it here in our review: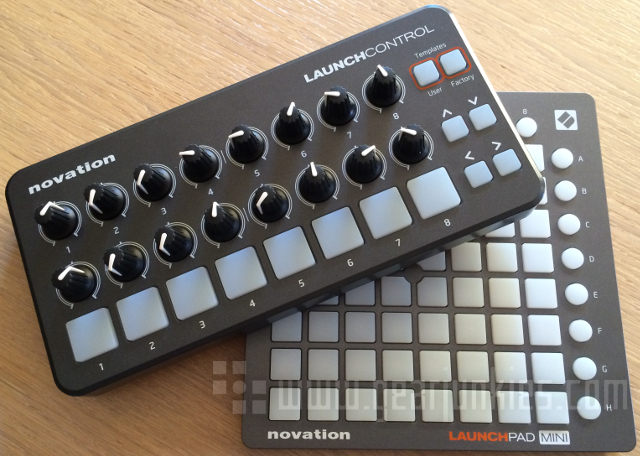 First Impression
The first thing you notice with the Novation Launchpad Mini and Launchcontrol is their size. They really are small, but they don't look cramped because of that. Furthermore, they look nice and sturdy, something that can't be said of lots of other small, almost 'toylike' controllers. Both devices are connected and powered via micro USB, so no hassle with batteries or a separated power supply. When turning the units on, you will immediately notice the multicolored backlighted buttons. A very nice addition on controllers with this size and price, because it can really improve your workflow and keeps your eye of your computer screen and your concentration on the music.
Feeling
As said before, if you work with the Lauch series, you will notice you have two decent controllers at hand. They are heavier than you would expect and the rubber pads, knobs and other controls give you a precise control over your parameters and music. Rubber on the bottom of the controllers makes sure that they controller stay put, even if you are very enthusiastic and expressive performer.
Launchcontrol
The Launchcontrol is a controller which can fit almost anywhere with its small sizes: only 24 cm wide and a 11.5 cm height. However, the controller stil has a lot of functionality packed: sixteen knobs, eight full-sized pads, two template buttons and four navigation buttons. On paper this seems a lot for such a small controller, but the unit stays easy and pleasant to use.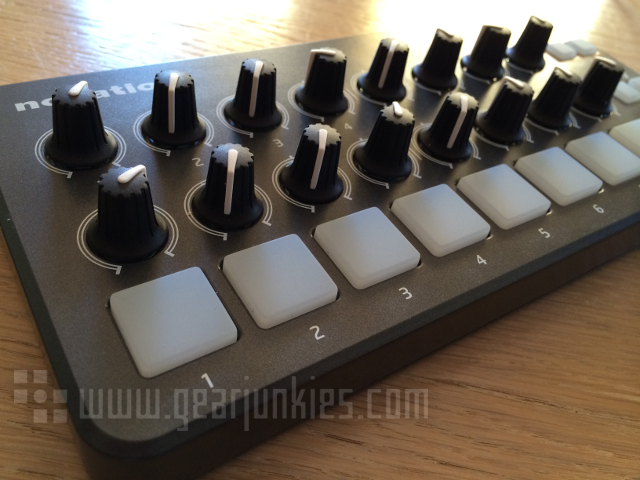 Launchpad Mini
The Launchpad Mini is even smaller than the Lauchcontrol. It measures 18.5 by 18.5 cm and thanks to the use of only flat buttons, you can easy carry it around in your laptop bag. With an eight by eight button grid, you have a total of 64 (!) pads for controlling your clips, patterns and what not within your DAW. Next to those you also have eight extra function buttons, which you can use to change the functionality of the button grid. You might understand that the possibilities of this device seems to be endless!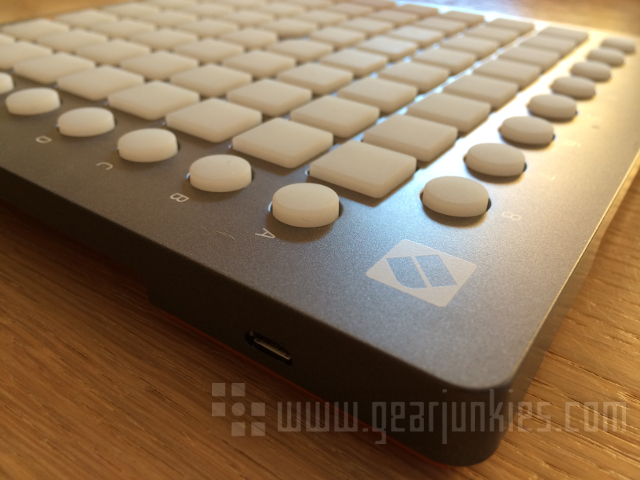 DAW integration
Novation is known for their easy and neat integration of their products with Digital Audio Workstations. For the Launch series they include standard mappings for DAW's like Ableton Live, Cubase, Logic, Reason and Fruity Loops. This saves you a lot of time mapping the buttons; Just plug and play! Are you that kind of producer who likes to have total control? No problem, since the devices are completely MIDI so you can make your own mappings.
These controllers are very nice to use. The rubber pads are very responsive and the coloured LEDs give you the feedback you need. The knobs have tangible precise steps, which make them easy to use, without even looking at your monitor screen. With these controllers you can save a lot of time looking at your screen, trying to control or draw the parameters with your mouse. A real improvement to your workflow!
DJ Integration
Since the Launchpad series are fully MIDI, you can also use them within midi enabled dj software. There are already lots of ready made mappings on the internet, which can save you time mapping the controller on your own. For Native Instruments Traktor we found very ncie mappings for the standard decks and even four deck control. We were especially enthusiastic about mappings for the Remix Decks of Traktor, for which these controllers can really show their power!
Accessoires
Novation also makes sure that their are well made accessories for their gear. An original sleeve is available for the Launchcontrol. Although the controller is sturdy and easily taken with you, a little extra protection never hurts!
Pro's and con's:
Compact housing
Low price
Sturdy
Mappings available
Clear overview
Multi color LED feedback
The buttons on the launchpad mini might be too small if you have big hands
We would have liked it when the sleeve came with the controller
Conclusion
With the Launch Series, Novation introduces yet again two nice controllers. Thanks to their compact size, the large quantity of mapping templates and their sturdy housing, these are really controllers we would recommend. If that is not enough, these controllers are also very friendly priced, therefore we can only conclude these are controllers which are worth their money, especially for the live performers and mobile producers!