IK Multimedia is now shipping iRig MIDI 2, the first portable Lightning/USB MIDI interface for iPhone, iPad and iPod touch as well as Mac and PC.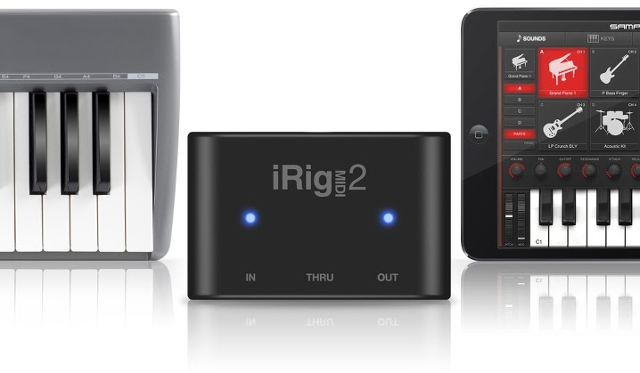 iRig MIDI 2 adds a whole new level of portability and connectivity thanks to its detachable and interchangeable cable inputs, standard MIDI connectors and pocket-sized form factor. It's the perfect mobile MIDI solution for the musician on the go.
iRig MIDI 2's Lightning connector provides out of the box connectivity with iPhone 5s, iPhone 5c, iPhone 5, iPad Air, iPad (4th generation), iPad mini and iPod touch (5th generation). In addition, iRig MIDI 2 also works with all earlier generations of iPhone, iPad and iPod touch with an optional 30-pin connector as well as Mac and PC via its included USB cable.
iRig MIDI 2 is so flexible because all of its cables are fully detachable and interchangeable via its Mini-DIN connector: Users can swap out Lightning connector, 30-pin connector and USB cables on the fly, which allows for quick switching while on the move. All cables are bumper friendly, which means that iRig MIDI 2 can be plugged into mobile devices without having to remove any protective case.
iRig MIDI 2 is available now from music and electronics retailers worldwide and from the IK Online store for only $99.99/€79.99 (excluding taxes).