CME announces the cooperation with One Red Dog, all of Xkey users could enjoy XK-1 synthesizer app for free. The "One Red Dog" is a well known music software company with great talent. Thanks to Xkey user community, all of them showed leading concept of mobile application in social network, and it inspires One Red Dog to launch the first customized Xkey Synthesizer app—the XK-1, this integration will bring perfect experience to the professional in iOS platform.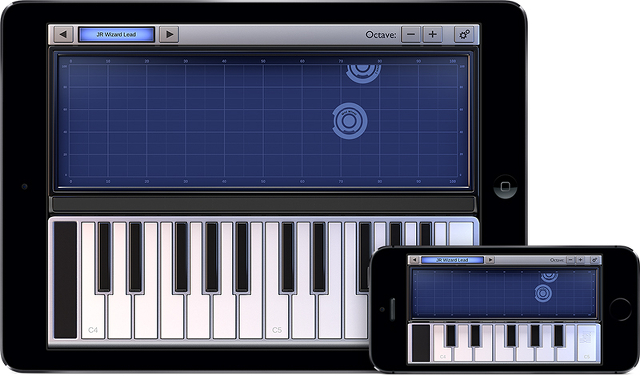 XK-1 is the first customized synthesizer app for Xkey in the world. With similar friendly user interface design as Xkey, it is simple and easy to adopt. The XK-1 also equips with powerful and acclaimed synthesizer engine from the number one selling app, Arctic ProSynth, XK-1 packs a sonic punch like no other, with a lot of professional musicians' presets in the library including Jordan Rudess from Dream Theater, these presets have been carefully crafted to maximize the unique playing experience offered by the Xkey keyboard. Designed to be easy to use with a large dual-finger X-Y pad and high precision ribbon strip pitch bend.
XK-1 also supports the polyphonic aftertouch messages sent from the Xkey keyboard for delicate expressive playing. The new mobile music creation gear Xkey leads the musical industry to a truly mobile application. With excellent and customized XK-1 app , your Xkey will become even more powerful on the go. This is definitely a great news and benefit for Xkey users. The free version of XK-1 includes 16 sounds. Connect your Xkey to your iPad with the Lightning to USB Camera Adapter (available from Apple) and unlock the full sound library of 168 presets for free exclusively.
If you don't yet own an Xkey the library is available through an in- app purchase at $2.99 USD. Available for iPhone and iPad with iOS 7.0 or later, now you can carry a powerful modern subtractive virtual analog synthesizer with you alongside your Xkey. In the near future, you will see more and more users and partners cooperate with CME Xkey on software application. The freedom of mobile music creation is coming, let's enjoy the music creation on the go with Xkey.
Similar intuitive UI design to match Xkey concept
Support for polyphonic aftertouch
Presets from the acclaimed Arctic ProSynth
Fast operation, plug and play with Xkey
Inter-app Audio support
CoreMIDI support with Virtual MIDI Ports
Audiobus support
Available in the Apple App Store