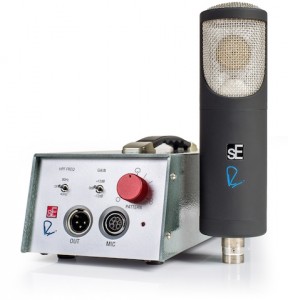 sE Electronics has announced two new products debuting at the 2015 Musikmesse show in Frankfurt, Germany: the RNT (http://www.seelectronics.com/se-rnt-rupert-neve-mic), a large-diaphragm multi-pattern tube microphone designed with Mr. Rupert Neve, and the guitaRF™ (http://www.seelectronics.com/guitarf), the world's first Reflexion Filter™ created specifically for double-miking and recording guitar amp cabinets.
Over ten years in development, the RNT combines a high-voltage tube circuit within the microphone itself, a floor box with a discrete, class-A amplifier circuit using the same custom op-amps as Rupert Neve Designs' flagship 5088 analogue mixing console, two of Rupert's custom transformers, and a custom mic capsule designed by sE to provide extreme headroom (153dB) and high-bandwidth frequency response.
Given its substantial headroom, the mic has no need for a pad, but the amplifier circuit in the floor box has three gain settings of -12dB, 0dB (flat), and +12dB. The amplifier circuit in the floor box is +/- 2dB from <1Hz to 100kHz, and completely flat from 1Hz to 30kHz. Operating on +/- 36VDC rails, this circuit can handle the max capsule voltage without any possibility of clipping. The floor box also has a three-position high-pass filter at 40Hz, 80Hz, and 0 (off), and a nine-way selector switch to vary the polar pattern from omni to cardioid to figure-8, with several steps in between each.
The RNT has an MSRP of $3,495 USD