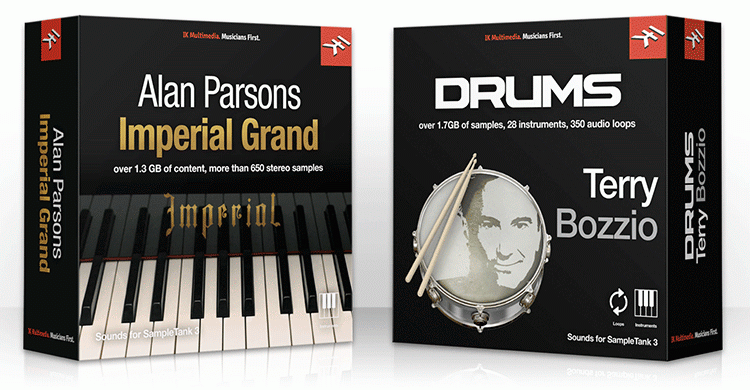 IK Multimedia
is pleased to announce the availability of two new exciting sound libraries for SampleTank® 3 for Mac and PC. Exclusively sampled for the ultimate sound and groove workstation, these collections are:
Alan Parsons Imperial Grand
, an audiophile concert grand piano recorded by a legendary engineer and a world-class studio, and
Terry Bozzio Drums
, a huge library of drum kit samples and loops that captures the idiosyncratic essence of the master drummer whose work with Frank Zappa, Missing Persons, UK and Jeff Beck is the stuff of rock god legends.
Alan Parsons Imperial Grand:
The library was recorded by legendary producer-engineer, Alan Parsons, known for his timeless work with Pink Floyd, The Beatles and of course The Alan Parsons Project. IK Multimedia US founder and executive producer, Dave Kerzner, teamed up with Alan to sample a spectacular Bösendorfer Model 290 grand piano at Mark Knopfler's British Grove Studios in London.
To capture the essence of this dynamic instrument, Alan used AKG C12 and Neumann U67 valve microphones running through a classic EMI console that's similar to the one he used while working withThe Beatles and Pink Floyd. Alan Parsons Imperial Grand provides over a gigabyte of content with over 650 stereo samples. All notes have been sampled at 8 different velocities for the utmost in realism and playability (some notes have been omitted for uniform tonality).
The piano samples were then obsessively voiced specifically for SampleTank 3 by IK's international sound design team who slaved away to find the perfect velocity split positions combined with carefully dialing in the ideal velocity response from the SampleTank 3 engine. SampleTank 3's Acoustic Resonance convolution effect provides ultra-realistic soundboard resonance so that when you press the sustain pedal, the harp resonates the way it should; giving you the real-life experience of playing an acoustic grand piano.
Alan Parsons Imperial Grand gives SampleTank 3 an amazingly versatile piano instrument. Its dramatic presence, unsurpassed power and emotional depth make it perfectly suited for everything from rock to jazz, pop to classical and everything in between.
Terry Bozzio Drums:
Terry Bozzio Drums is a new high-definition drum and groove library for SampleTank 3. It includes a huge 1.7 gigabyte library with more than 1,800 drum samples and 350 loops all played by Terry Bozzio himself, and recorded by Ken Scott, the legendary producer-engineer behind such Missing Persons '80s pop hits as "Walking in LA," "Destination Unknown" and "Words."
The collection includes 10 playable drum kit instruments. The complete kit includes 2 kick drums, 2 snares, 6 highly stylized Roto Toms (each played with 4 articulations), hi-hats, ride and several unusual and exotic additional percussive elements that include things like china cymbals, stacked cymbals and more. And for the ultimate realistic playing experience, all of the kit's drums have been recorded at 8 different velocities, with as many as 8 round-robin hits per velocity. All of these drums are mapped using an extended General MIDI mapping which lets users mix-and-match elements from the Terry Bozzio kit with elements from other SampleTank 3 drum libraries.
Terry Bozzio Drums also includes 350 audio loops played by the man himself. The loops have been organized into 10 instruments, and they're all in the style of many of his favorite album cuts. SampleTank 3's STRETCH engine makes these loops infinitely useful — musicians can easily change the tempo of the loops without affecting the pitch of the drums.
This makes for an impressively well-rounded collection that's perfect for rock, progressive, jazz fusion, pop, metal, blues, EDM and more — these drums and loops are so versatile that they can seamlessly fit into any style.
Pricing and availability
The Alan Parsons Imperial Grand and Terry Bozzio Drums sound libraries for SampleTank 3 are available now via the IK online store and the SampleTank 3 Custom Shop for a special introductory price of just $/€79.99 each.