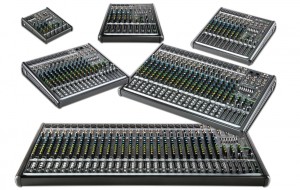 Mackie announces the immediate availability of ProFXv2 Series Professional Effects Mixers. The redesigned ProFXv2 series features an all-new preamp design and powerful new effects engine, delivering unmatched sonic performance for live sound applications. The series has been expanded with two new models, the 4-channel ProFX4v2 and the 30-channel ProFX30v2, opening up the no-compromise ProFX toolkit to a wider range of applications.
The ProFXv2 Series features a wide range of models, each with their own complement of I/O and features to suit nearly any live sound application. There are three compact models – ProFX4v2, ProFX8v2 and ProFX12v2. These utility workhorses deliver professional live sound features in compact designs perfect for smaller applications. The ProFX16v2, ProFX22v2 and ProFX30v2 not only offer the higher-channel count needed for bands, Houses-of-Worship and more, they include additional features for professional applications. They each feature 4-bus architecture for additional mix management and dedicated inline channel compression on select channels that add life and punch to guitars or bass and increase the presence of any voice.
Mackie ProFXv2 series mixers are now shipping worldwide. The comprehensive series includes six models to cover a wide range of applications. The ProFX4v2 has a U.S. MSRP of $169.99. The ProFX8v2 has a U.S. MSRP of $299.99. The ProFX12v2 has a U.S. MSRP of $359.99. The ProFX16v2 has a U.S. MSRP of $629.99. The ProFX22v2 has a U.S. MSRP of $809.99. The ProFX30v2 has a U.S. MSRP of $1149.99.