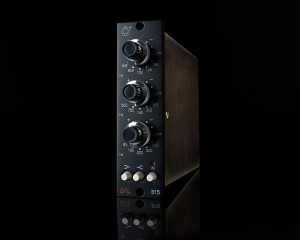 BAE Audio, manufacturer of audio equipment faithful to vintage design specifications, introduces its latest sonic creation: the B15 multi-band equalizer.
The new B15 EQ is an all-discrete design, featuring three bands with (5) selectable frequencies per band. Created to BAE Audio's discriminating vintage specifications, the build and performance of the B15 does not disappoint, complete with Jensen transformers at the input & output stage, Elma gold plated rotary switches and a 15-way gold connector for longer life. The aesthetics of the B15 are equally as sleek, featuring custom-machined aluminum knobs set against a classic matte black housing.
"We are very proud of our latest 500 series creation," commented BAE Audio President and Founder Mark Loughman. "When people listen to the new B15, they may recognize a 'punchy' sound characteristic, reminiscent of the classic 312 circuit.  The B15 is built with Jensen transformers, and includes other unique touches such as a fully discrete gyrator circuit. People will not only feel the difference of the B15, but hear it as well."
The B15 is the latest in BAE Audio's 500 series. Last month, the company announced its 1073MPL 500 series preamplifier, which delivers the 'larger than life' sound of the 1073 available in an impossibly small package. For equipment manufacturers, designing and building high quality 500 series modules is often ripe with challenges, given the significantly reduced physical space. With the B15, the 1073MPL and its other 500 series units, BAE Audio has maintained a very high manufacturing standard, as each of its units are hand-wired and assembled in California.
The B15 is available now through BAE Audio's network of authorized dealers, and carries a retail price of $1,000.