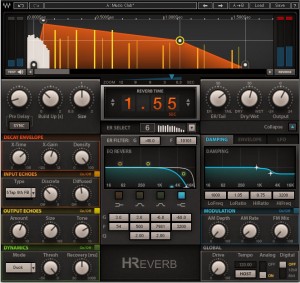 Waves Audio offers its new H-Reverb, a pioneering reverb based on innovative Finite Impulse Response reverberation technology – providing richer, deeper reverb tails that sit beautifully in the mix while breathing crisp air into tracks. It lets users shape and customize the reverb decay envelope beyond the standard linear forms, resulting in perfectly gated, real reverse, and dense reverb tails that don't muddy up the mix. Using Waves' advanced analog modeling, along with a drive control, it offers signal behavior that until now was found exclusively in high-end hardware reverb devices.
This unique design also enables input drive, a technique favored by many top engineers. To top it all off, H-Reverb includes an impressive library of artist presets from the industry's leading mixing engineers, as well as presets inspired by vintage and modern classics. These presets may be the perfect space you're looking for, or simply the perfect point to start from.
By fusing classic reverb concepts with forward-thinking features that break new ground in digital reverb processing, H-Reverb provides uncompromising sound quality and boundless creative control.
Resonant filter sweeps for creating innovative reverb effects
EQ and dynamics module for compression, ducking and de-essing
ADA analog modeling and drive control
Artist presets from the industry's leading mixing engineers
Full buildup timing and shaping
Pre-delay BPM sync
Support for full 5.1 channel surround setups
Quick reference button
User-friendly GUI with collapsible version