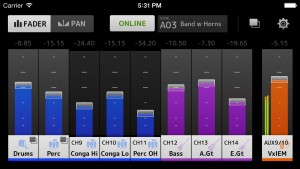 Yamaha today announced the availability of the MonitorMix app designed to enhance the capabilities of the company's new TF Series digital mixing consoles.
 Available as a free download in the App Store, the MonitorMix appoffers individual wireless AUX mixing from up to 10 iPhone, iPad or iPodtouch devices simultaneously, giving performers convenient control over theAUX buses assigned to them, without having to master complex settings orparameters. They can also create personal Group settings for even easieradjustment, including the ability to set all levels on just one fader, for example.Since up to three devices running TF Editor or StageMix and up to 10 devicesrunning MonitorMix can be connected at the same time, even large bands canhave the personal control they need, reducing demands on the soundengineer.
 "There is a strong demand for personal monitor mixing solutions fordigital consoles," said Ken Hiraoka, department manager, Yamaha Pro Audio."Sound engineers and onstage performers will appreciate the MonitorMix appfor the TF series, since this new solution makes monitor mixing easier andfaster." The TF series, which offers intuitive operation, advanced features andrenowned Yamaha reliability at an exceptional price point to an even widerrange of users, now features three dedicated apps–TF Editor, TF StageMix™and MonitorMix–that enhance the interaction with the user interfaces andseamlessly extend the console's capabilities on any device.