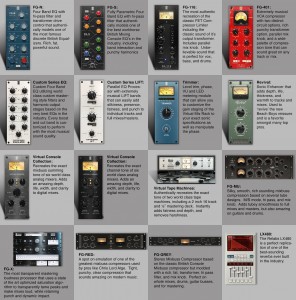 As we all know, quality plugin processors are one of the essential audio engineering elements that can ensure the greatest sounding audio productions. They can turn good mixes into incredible mixes, and allow you to manipulate and craft your vision into a sonic masterpiece. Slate Digital have created authentic digital emulations of the industry's most sought after analog gear that have been used on thousands of top recordings.
You might think that plugins are too expensive, so you either use the stock plugins from your DAW or you'll… dare we say it.. find cracked plugins!!! Well, given that the entire staff at Slate Digital are also working producers and engineers, they have decided to figure out a better solution. And that's they've created the MIX MASTER BUNDLE and MIX MASTER FX BUNDLE.
The Slate Bundle gives you a complete (and growing) arsenal of analog modeled mixing and mastering plugins.  But for the greatest mix, you need the greatest reverb.  So they've got the best reverb in the industy, the LX480 by their friends at Relab, and added it to a bundle called The Mix/Master/FX Bundle.  The LX480 is a perfect recreation of the most famous digital reverb that has been used in more recordings than any other, and has the best sounding rooms, halls, and plates!
To protect your investment, they make sure every hack engineer with an internet connection can't use their plugins.  They use the iLok2.  The cool thing about iLok is that it takes seconds to activate your new bundle, and you can take your virtual analog studio to any machine and just plug in your iLok, install the bundle, and work instantly. A lot of you pros already have an iLok, but if you don't have one, you'll get one absolutely FREE when you get the Slate Mix/Master Bundle or Mix/Master/FX bundle.
Even if you renew your Mix/Master Bundle for several years, you're still going to spend less than one tenth what you would if you actually had bought the plugins.  But regardless, there might be a plugin or two that you just love so much that you'll want to own it forever till you are old and gray and mixing music inside a spaceship.  So for a limited time:
– Buy the Slate Digital Mix/Master Annual Bundle and get
EVERY Slate Digital Plugin, AND you'll INSTANTLY
GET A $99 COUPON TO USE IN THE SLATE DIGITAL SHOP!
– Buy the Slate Digital Mix/Master/FX Annual Bundle and get
EVERY Slate Digital Plugin, AND you'll INSTANTLY
GET TWO $99 COUPONS FOR THE SLATE DIGITAL SHOP!
With the Monthly plan, you only pay $19.99 for the Slate Mix/Master Bundle and only $24.99 for the Slate Mix/Master/FX bundle that adds the Relab LX480 Reverb! That's about the price of a large pizza!
And you get all the same perks as the annual plan!
You get a FREE iLok2 if you subscribe for at least two months.
And after twelve months of subscribing you get a $99 coupon with either package. And NO, the twelve months do NOT have to be consecutive months!
For more information, visit Slate Digital and check out why they may just have changed the way you think about plugins forever!