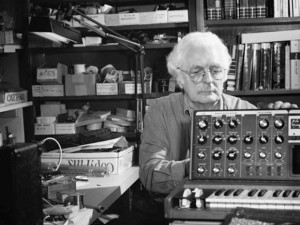 When Bob was alive, we had lunch every Friday afternoon. About 11 years ago, we sat down at the Fish House on Tunnel Road and I told him that it looked like Moog Music was finally a healthy company – we were profitable, orders were coming in faster than we could ship them out, and we had built up a healthy backlog. Bob teared up and said, "Mike, I've never been a part of a company that was able to provide stability for its employees and their families." It's been more than a decade since that conversation, but that day and those words still resonate.
I know that when Bob passed away he was confident that his company was in good hands. I wish more than anything that he was here to see how we have grown, and that our employees are not only being provided for today, but that they are now employee owners and will be provided for in retirement as well.
Bob, we miss you and there's not a day that goes by that I don't think of you. You always told me that the music business is special and that it is an honor to do the work we do. I feel that more today than ever before. You also told me that our customers are passionate and creative, and that it is our job to fuel that passion and creativity. Those words still inform every decision we make, and inspire the love and care with which we produce the instruments that bear your name.
I can't believe it's been ten years since we've had lunch together. If we were able to speak today, I know that you would be most interested in our vision for the next ten years. It is because of your guidance that we have such a bright path ahead of us. We are so grateful to have the opportunity to be a part of your enduring legacy.
Thank you, Bob. We can never say that enough.
Your friend,
Mike
Mike Adams
President & CEO
MOOG MUSIC INC.