Posts Tagged 'DJ1800 DJ1800 2.0'
DJ-1800 v3.1 launches today with significant new features and enhancements to the acclaimed professional DJ software for Mac.
DJ-1800 is a complete, self-contained professional DJ system for the Mac. Version 3.0 has been released.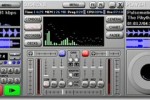 DJs who like to use hardware controllers during their set will be able to make the most of their kit with the new release of DJ-1800. Version 2.2 of the professional DJ software now includes support for popular controllers, including the Hercules DJ Console, the Kontrol-DJ and any other MIDI controller. The new version also features a clearer interface, which is even more responsive when new tunes are loaded.