Earlier today we showed you the new DN-X600 2-Channel Digital Mixer, featuring MIDI interface and an internal soundcard. But Denon didn't stop there. They unveiled more new gear. Denon unveiled a full-blown mixer/MIDI controller, with four-deck/four-channel mixer control with built-in soundcard and microphone effect, and the ability to control DJ software for PCs through US, the DN-MC6000. The DN-SC2000 is a single deck MIDI controller. Next to these new products the DN-X1600 is now TRAKTOR® SCRATCH PRO certified, further expanding the unit's capability.
The DN-MC6000 Mixer and MIDI Controller is a four-channel/eight-source standalone digital DJ mixer with MIDI interface and internal sound card. With an astounding amount of features, real-time channel matrix operation, slim tabletop design, state-of-the-art solid steel chassis construction and quality sound, the DN-MC6000 is one of Denon DJ's flagship controllers. Also acting as an audio interface (with a 2 in/2out stereo soundcard included), the DN-MC6000, when paired with the user's software of choice, is a turnkey control solution for mobile DJs and party DJs, and a clear centerpiece to any DJ rig.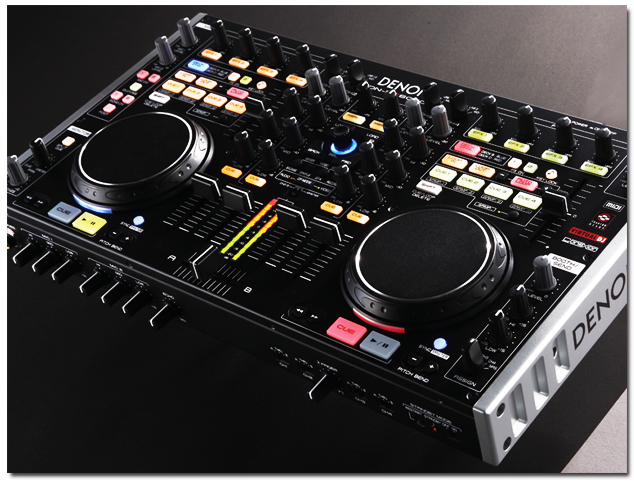 Key features include rack-mountability (with included 19″ rackmount accessory kit), a number of on-board MIDI effect controls, durable construction, intuitive layout, dual jog wheels, pitch fader, channel fader, cross fader and much more. The unit's Pitch/Fader/Volume lock function holds the last known Audio value and position until the NULL point is again reached. It is also easy for users to find where they are going, with the included File browse navigation keys and rotary encoder file selector knob with illuminated ring. Also featured are the unit's high-quality, high-output headphone amp, the independent 3-band Channel EQ with "Kills" (high-mid-low) and various Utility presets to customize user settings.
The DN-SC2000 is an affordable, compact, professional-grade, solid steel MIDI controller designed for the home DJ or party laptop DJ on the go. Used together with the DJ's favorite mixer and PC software of choice, the DN-SC2000 offers party and bedroom DJs a compact, portable, user-friendly control solution. A two-layer system, the unit can control two decks at once (with visible deck color change), or be paired with another DN-SC2000 unit to control four decks.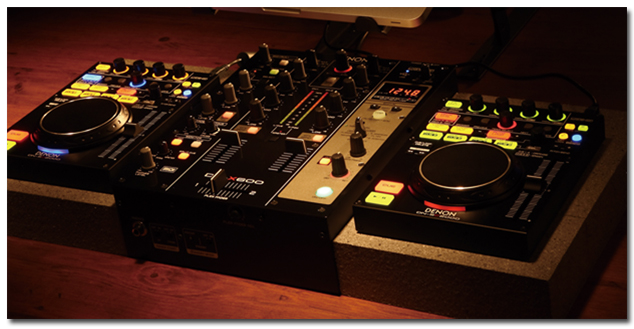 The DN-SC2000 is optimized for TRAKTOR® Pro users and natively supported by Virtual DJ. The unit connects with the user's PC or Mac® via a USB 2.0 interface. The DN-SC2000 includes many advanced functions, including MIDI-mapable capability, auto loop function, a wide range of effects, rugged pitch slider, pitch lock, automatic beat sync, durable rubber button controls and much more.
Denon DJ furthermore announces that its popular DN-X1600 Digital DJ Mixer has received Native Instruments™ TRAKTOR® SCRATCH PRO certification. "TRAKTOR SCRATCH PRO"-certified products are premium-quality mixers with integrated audio interfaces (sound cards) that meet the highest standards for professional sound quality and seamless integration within a TRAKTOR SCRATCH PRO setup. The certification will ensure that the DN-X1600 will work in perfect harmony with TRAKTOR SCRATCH PRO.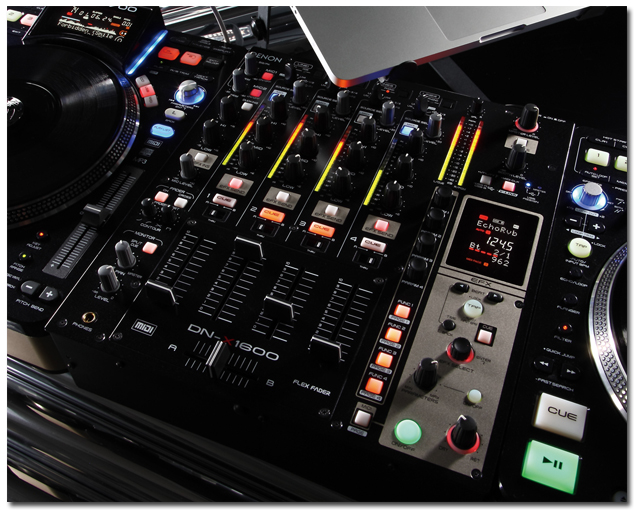 The DN-MC6000 and the DN-SC2000 will be available fall 2010 with a (U.S.) MSRP of respectively $949.99 and $299.99.