This weekend at PLASA, Allen & Heath have launched several new products. Among them are three products that support the iLive digital mixing series. The xDR-16 expander unit provides remote analogue I/O expansion and networking options at FOH, on the other side of a large stage, in another room, or even in a different building during installations. Dante is a networking audio interface card for the iLive family of products. Together with Riedel Communications, leading manufacturer of intercom, audio, fiber and radio technology, A&H unveil the new RockNet RN.345.IL network plug-in card.
The xDR-16 has 16 analogue inputs and 8 analogue outputs connected via Allen & Heath's proprietary Audio and Control over Ethernet (ACE™) link fitted in Port B of an iLive MixRack, which can be positioned up to 120 metres away on CAT5 or further on a dedicated fibre optic system.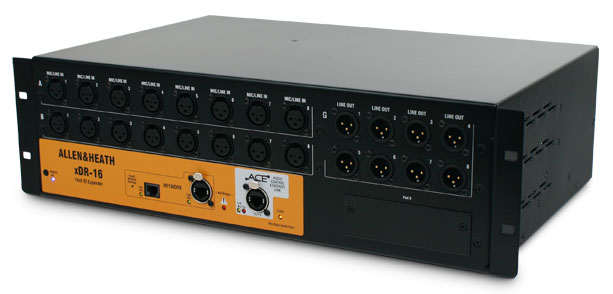 Allen & Heath's range of audio interface and network plug-in cards can be fitted to the xDR-16 to provide additional connectivity, including EtherSound, MADI, Mini Multi-Out (Aviom™ and ADAT), ACE™, RockNet and Dante.
Up to two expanders can be added to a standard iLive system, providing a total of 32 inputs and 16 outputs, and the ability to fit two audio networking cards, such as a combination of MADI and Aviom, to one system. Systems implementing 'DualRack' mode or a FOH/Monitor split can support one expander if required.
The xDR-16 also features an Ethernet network port, enabling the user to plug in a laptop or wireless access point for remote control of the entire mixing system via iLive Editor control software or iLive Tweak iPhone app.
"The xDR-16 adds to the flexibility of the iLive range by providing a wealth of expansion possibilities," comments Allen & Heath MD, Glenn Rogers. "Customers such as PA companies, touring engineers and venues installing iLive will benefit from increased physical I/O located where they need it in a compact 3U box."
The Dante audio interface card allows iLive systems to work with Audinate's Dante audio networking solution, providing capacity for 64×64 bi-directional audio with full network redundancy. iLive MixRacks and modular surfaces with the RAB2 module can be fitted with the new slot-in card. A Dante Virtual Soundcard license will be included with purchases of the card, turning a PC or Mac into a Dante enabled device.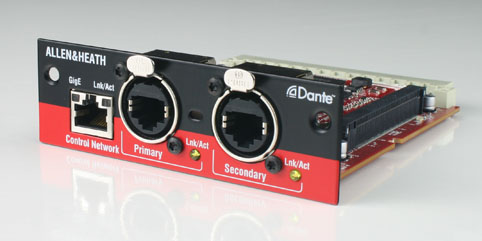 "We know from our customers that there are many iLive users who want to be able to integrate with Dante," stated Glenn Rogers, Managing Director of Allen & Heath. "We have been pleased to work with Audinate in the development of their new 64 channel module, which will provide a great solution. The new audio interface card should be available to us in November."
Audinate revolutionizes the way network systems are connected by transporting high-quality media over standard IT networks. Its Dante products delivers a no hassle, self-configuring, true plug-and-play digital audio network that uses standard Internet Protocols. Dante offers a market leading solution today, while de-risking the future by providing a migration path to upgrade to new standards such as the IEEE Audio Video Bridging (AVB).
Allen & Heath's iLive digital mixing series comprises several Control Surface and MixRack variants, which can be mixed and matched in any combination and share the same firmware.
RockNet is a digital real-time audio network that provides up to 160 digital audio channels over a single counter-rotating CAT-5 ring. Based on a redundant ring topology, RockNet forms a self-healing network with no loss of audio in case of a connection fault between two devices.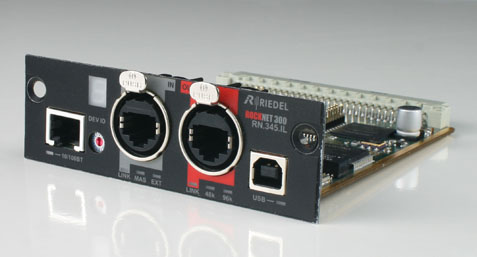 The RN.345.IL card fits into any iLive MixRack Port B expansion slot and provides an interface to 64 input and 64 output channels. A rotary switch on the front panel sets device identification and selection of up to 15 programmable routing tables. The RN.345.IL enables the iLive mixing system to become part of the RockNet digital audio network.
Using RockWorks running on a PC/Mac is it possible to provide the engineer with unique Independent Gain per channel. Independent Gain allows several network locations to operate with the same mic pre-amps without affecting each other. This makes multi-system and recording set ups very convenient, especially when combined with the iLive digital input trim.
"Allen & Heath is very pleased that the iLive digital series now provides a module for audio interconnection to the RockNet system," comments Allen & Heath's Technical Director, Rob Clark.