BIAS is shipping SoundSaver – a new software solution for Mac and Windows computing platforms that greatly streamlines the process of converting and restoring LPs and tapes. SoundSaver is easy enough for beginners to use, while delivering professional results with minimal effort and little expense.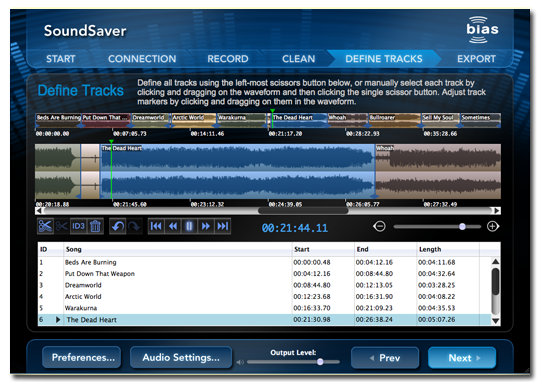 "For many, the desire to convert old records and tapes is strong, but the patience for learning is limited. SoundSaver simplifies the process while delivering superior results at a price anyone can afford", said Jason Davies, VP of Business Development for BIAS, Inc.
"It's actually less expensive and in many ways far more rewarding to transfer an existing analog collection, as opposed to re-purchasing the content in digital form – assuming it's even available. Using SoundSaver is not only enjoyable, but also a real money saver, especially given its low price. And for those of us with old bootlegs*, band recordings, important lectures, or family memories captured on tape, it's important to realize that the media is degrading – the faster it gets archived with SoundSaver, the better."
Intuitive user interface – SoundSaver makes recording LPs, tapes, and other sources super-easy with a complete step-by-step tab-based approach. Regardless of prior experience, anyone can use SoundSaver – without ever reading a manual – though electronic documentation is included along with a handy tutorial video at no additional charge.
Audio connection cable included in boxed "kit" edition – Unlike some software only solutions, the boxed "kit" edition of SoundSaver includes a free 6′ RoHS-compliant stereo mini to dual RCA cable – making it easy to connect a computer to most common devices such as turntables, stereo receivers, tape decks, and more. Additional adapters can be added easily for other connections, but most users will find the included cable is all they need.
Ideal for USB turntables and tape decks – While many USB turntables and tape decks include basic conversion software and/or general-purpose freeware audio editing applications, none offer the combined ease-of-use and high-quality cleaning results offered by SoundSaver. Not only does SoundSaver offer far better audio fidelity than other solutions, but being specifically designed for its intended use makes the audio archiving process far simpler and more enjoyable – meaning users are far more likely to achieve satisfying results.
Availability and pricing – SoundSaver is available now for purchase through authorized BIAS resellers worldwide and directly from BIAS at an introductory suggested retail price of $49.95 US (download edition without the RoHS-compliant audio cable also available). BIAS is also offering special limited time incentives for existing owners of USB turntables and tape decks manufactured by companies such as Alesis, Audio Technica, Crosley, Denon, DJ Tech, Gemini, GEM Sound, Grace Digital, ION, Numark, TEAC, Technics, and others.