DJ Tech is proud to present our newest mixer, the X10. The X10, is a compact professional DJ mixer with an integrated 4-in/4-out USB interface.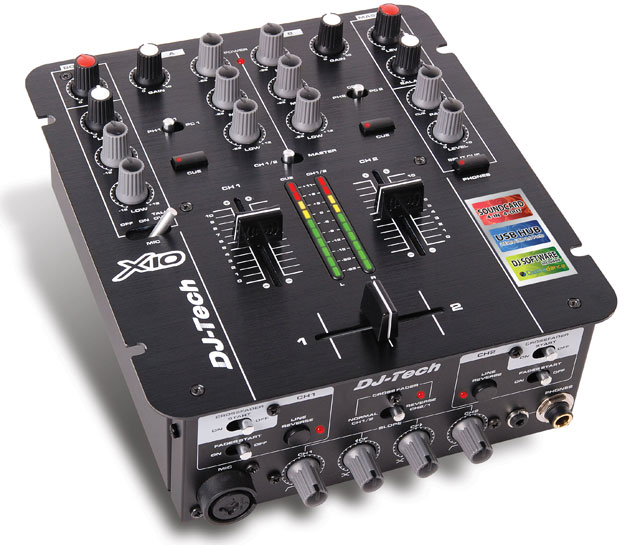 The X10 is equipped with the following features:
On-Board Soundcard – The X10 is equipped with a 4-in/4-out USB audio interface. The inputs on the sound card allow easy connectivity to DVS software, regardless if the user prefers vinyl or CD timecode. The included ASIO driver provides both PC and Mac users with an ultra low latency sound card.
Analog Connectivity – The X10 also provides connectivity for traditional analog devices should DJs want to connect devices such as CDJs or turntables. Switching to the analog inputs is as easy as assigning the desired device to a specific channel via a switch on the device.
Expandable USB Connections – The built-in USB hub also provides 2 extra USB connections to allow integration to other USB devices such as MIDI controllers. For example, the user can connect 2 uSolo FX's to the USB hub and have a tightly integrated control surface, sound card, and mixer connected to digital DJ software.
More Controls for Less Money – In addition to the standard mixer functions such as 3-band EQ, channel selection, crossfader curve control, and split cue, the X10 is also equipped with Crossfader Reverse, Channel Fader Reverse, 2-way Crossfader Curve, and Channel Fader Curve. This allows the unit to be customized to fit all types mixing styles, while still coming in at an affordable price.
Analog or digital, the DJ Tech X10 is ready for any DJ set up.