Finally a Nord Stage with sample playback functionality. Clavia/Nord Keyboards are proud to announce the Nord Stage 2 Series featuring our latest sound generation technology in the Piano, Organ and Synthesizer sections.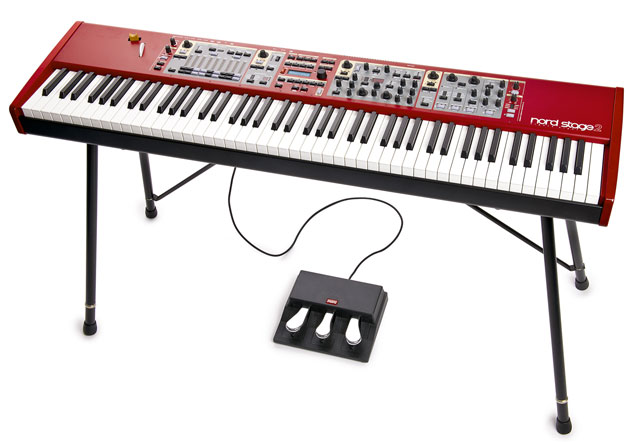 The Piano section
includes String Resonance, Dynamic Pedal Noise, and a completely user-replaceable piano memory, twice the size of Nord Stage EX, compatible with the free of charge Nord v5 Piano library.
The Organ section
features the tonewheel and transistor organ modeling of the C2 Organ together with a newly developed rotary speaker model.
The Synthesizer section
includes an arpeggiator and the Nord sample playback functionality with a memory size storing 120 sounds from the Nord Sample Library including Mellotron and Chamberlin samples. In addition Stage 2 users can also create their own samples by mapping sound files in .Wav format with the Nord sample editor. The genes of the Nord Wave brings analog-style and digital waveforms as well as FM synthesis.
Additional new features include MIDI over USB, monitor input, midi sync. for the global master clock and master clock sync. for LFO, arpeggiator and delay.
With the performing musician in mind the control panel gives immediate access to all key functions and instant visibility of all settings. Single function controls and dedicated selectors make for exceptional ease-of-use.
The Nord Stage 2 is handmade in Stockholm, Sweden by Clavia DMI and is scheduled to ship in February 2011.