Making its heralded debut at NAMM 2011, the CTRL-47 is a departure from other "Digital DJ" products. Designed for DJs by the company who knows them better than anyone, the CTRL-47 is a powerful and fluid professional Digital DJ system.
The CTRL-47 features a premium-quality 4-channel DJ mixer; an intuitive DJ controller with familiar feel and two touch-sensitive jog wheels as well as a built-in 24-bit/192 kHz soundcard, latency-free ASIO drivers. It provides maximum control over DJ software with a litany of controls for loops, effects, EQ controls, samples, hot cues, and pitch.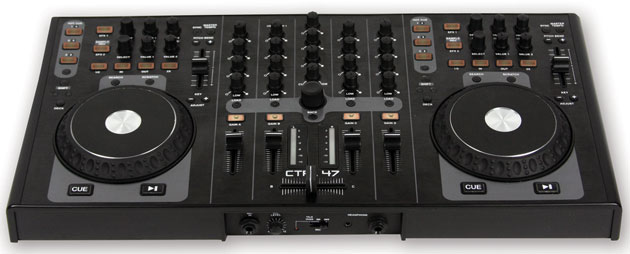 The included inputs and outputs on the CTRL-47 offer powerful connectivity options with balanced XLR outputs and 3 sets of stereo RCA outputs: Master, Booth, and Record as well as a S/PDIF digital out to feed your mix to any source. The CTRL-47 also makes it easy to hook up other gear – including headphones for cueing and a microphone, while its streamlined and compact profile makes it a pleasure to transport from gig to gig.
A version of the popular VirtualDJ 7 software is included with the CTRL-47. VirtualDJ is the hottest AUDIO and VIDEO mixing software, targeting DJs from the bedroom, mobile, and professional superstars. With VirtualDJ's breakthrough Beat Lock engine, songs will always stay in beat, allowing DJs to work their mixes faster than ever before. The automatic seamless loop engine and synchronized sampler lets the DJ perform astounding remixes live, with no preparation at all. The visual representation and the cues allow a DJ to clearly see the song structure, and never be surprised by a break.
"Gemini has a history of creating the most affordable and useful DJ gear," said David Cabasso, VP of Product Development at GCI Technologies, "and with the CTRL-47 we filled an important need for a powerful 4-channel MIDI controller."
The CTRL-47 is the newest addition to the Gemini CTRL series DJ controllers. The CTRL units are available through musical instrument, electronics, and DJ retailers. The CTRL-47 has an MSRP TBD. CTRL-47 unit will be shipping to retailers around the globe first half 2011.