FabFilter is celebrating its tenth anniversary of creating powerful audio plug-ins with superb sound quality and innovative interfaces. The company is proud to toast this occasion by announcing a generous ten-day sale, with a discount of 40% off all bundles and plug-ins, from April 14 to April 24. In addition, FabFilter will make a charitable donation to Stichting MEMO, a local organization bringing children in their early years in contact with young professional musicians and their passion for making music.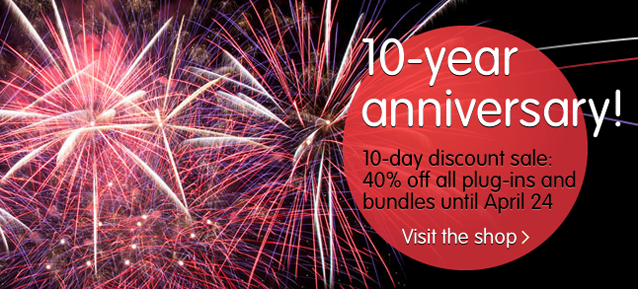 10 Year Anniversary
Ten years ago, FabFilter released its first plug-in, FabFilter One, a basic but powerful synthesizer, promising exceptional sound quality and eye for detail in both audio processing and design. That promise still holds true today, and the dedication to superb signal processing and well-designed, modern user interfaces and workflow never faded since.
FabFilter One and its follow-up Volcano ultimately led to the Creative plug-in range, with FabFilter Saturn as the latest addition. Renowned for their unique drag-and-drop modulation system and smart interface design which shows only the components that you actually use, all Creative plug-ins combine a huge range of inspiring possibilities with impressive ease of use.
With the release of the high-quality compressor plug-in Pro-C in 2007, FabFilter laid the foundations for the ongoing Pro series, highly regarded for their high-quality transparent sound, beautiful interfaces and well-thought-out workflow. Co-founder Frederik Slijkerman: "FabFilter Pro-Q, our EQ plug-in, is one of our absolute bestsellers and still one of the best examples of what FabFilter is all about: beautiful sound, fantastic workflow! We were really able to realize our vision of power converging with simplicity and elegance."
Coming full circle, FabFilter co-founder Floris Klinkert claims, "Our latest plug-in FabFilter Pro-MB is really a result of the 10 years we've now been working on audio plug-ins. It combines advanced dynamics algorithms with a forward-thinking, modern interface, rethinking the concept of multi-band processing."