Native Instruments today released an update for iMASCHINE – the acclaimed beat sketchpad for iOS devices. The latest version of the app is optimized for iPad, adapting to its larger screen layout. The update also includes a generous set of new sounds, iTunes sampling, and more.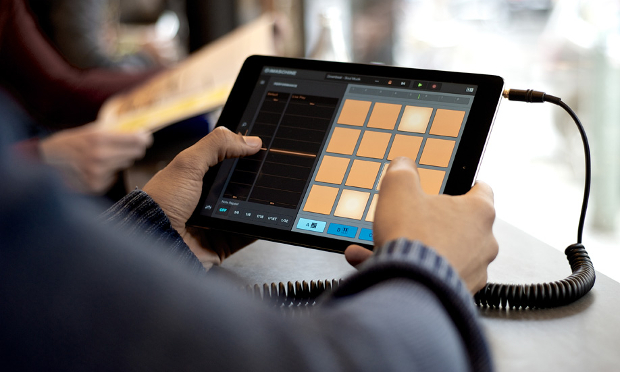 iMASCHINE allows users to create music sketches on-the-go with their iPad or iPhone. With an eclectic selection of drums, synths, one-shots, and a built-in audio recorder, it is designed for on-the-go beatmaking. The update features a new user interface and an optimized layout for iPhone 5, iPad and iPad mini. On the iPad, the modified interface allows two-handed operation: editing and performing functions are now on the same window as iMASCHINE's 16 drum-pads, 2-octave keyboard and the audio-recorder, making its workflow even smoother. Aside from iMASCHINE's standard library, the update also includes QUANTUM COLLECTION – a brand-new iMASCHINE Expansion featuring a choice selection of sounds from the recently released MASCHINE 2 Library. The new iTunes sampling allows users to capture parts from the music on their iOS device and edit the samples' start and end points.
Writing and performing with iMASCHINE becomes easier, thanks to a number of helpful workflow enhancements. Intuitive XY performance controls are a new way to perform effects. A swipe redo/undo function is a welcome addition for an even faster workflow. Lastly, this iMASCHINE update adds a metronome on/off switch – a popular request from the iMASCHINE community. Anyone who already owns iMASCHINE gets this entire feature set, including QUANTUM COLLECTION, for free by updating the iMASCHINE app on their iOS device.
Current iMASCHINE owners get the update free by updating the iMASCHINE app on their iOS device. New customers can get iMASCHINE for $4.99 / 4,49 € / £2.99 / ¥500 at the Apple App Store.
Additional information on iMASCHINE is available at: www.native-instruments.com/imaschine