American pro audio software company Plugin Alliance is proud to announce availability of bx_refinement and bx_saturator V2, two new native plug-ins from high-quality German software developer Brainworx.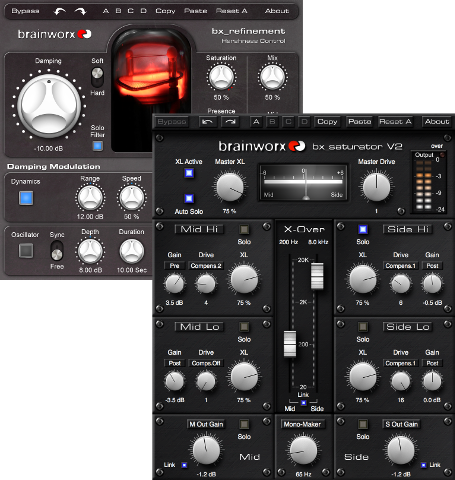 bx_refinement is the brainchild of mastering engineer Gebre Waddell of Stonebridge Mastering, who designed the original prototype as a tool to remove harshness, a problem he was encountering more and more in his work due to the transition to digital and the prevalence of over-compressed mixes. "Harsh recordings are one of the most common problems mixing and mastering engineers deal with," he notes. "The idea with bx_refinement was to create something that addressed harshness with little impact to the recording, and a great workflow. While it represents a genuine technical achievement, it's the listening during development that was key. Working with Brainworx to make this amazing multi-platform release was truly rewarding."
For his part in the creative proceedings, Brainworx founder and CEO Dirk Ulrich had this to say: "Brainworx grew out of my desire as a producer and mastering engineer to create tools to enhance my own work, and we always strive to maintain that practical approach in our product development. This is why we were so excited to work with a mastering engineer as experienced and talented as Gebre Waddell on bx_refinement. The end result is a plug-in which solves a key problem no other plug-in on the market directly addresses."
bx_saturator V2 is an update to Brainworx's popular bx_saturator. While retaining all of the key features of the original, including M/S processing, the ability to add saturation or distortion to targeted frequencies, and increase perceived volume without clipping, bx_saturator V2 adds significant improvements. "bx_saturator has been a very popular plug-in," proclaims Dirk Ulrich. "And with the totally rewritten algorithm in bx_saturator V2 we've improved the smoothness of the sound and the anti-aliasing, while reducing the CPU requirements significantly. This makes bx_saturator V2 not only a no-brainer upgrade for existing bx_saturator owners, but also a must-try for those users who haven't yet worked with it."
Indeed, to invest in both bx_refinement and bx_saturator V2 is to take two steps towards improving your mixing and mastering toolkit and to follow in the masterful mixing and mastering footsteps of Gebre Waddell and Dirk Ulrich. Smooth out harsh-sounding recordings with bx_refinement and add saturation, drive, and distortion exactly where you want it with bx_saturator V2. A no-brainer, indeed
Brainworx bx_refinement can be purchased and downloaded directly from Plugin Alliance for $199.00 USD.