Applied Acoustics Systems (AAS) is proud to announce availability of String Studio VS-2 an updated 64-bit version of its original String Studio VS-1 string modelling synthesizer plug-in released to critical acclaim almost a decade ago, dispensing with the traditional synthesizer audio pathway of oscillator, filter, and envelope elements in favour of real-life string instrument components.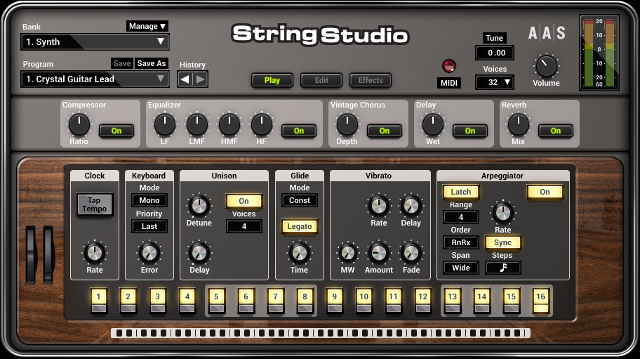 String Studio VS-2 is so much more than a routine update of its predecessor, however. Here AAS has successfully streamlined the String Studio concept and brought it kicking and screaming to a whole new level — one that will forever change both listener and player's perspective on strings. Who better, then, to introduce that streamlined String Studio concept than Applied Acoustics Systems President and Chief Executive Officer Marc-Pierre Verge: "Strings are the basis of so many musical instruments. They can be plucked, bowed, or hit, and interact with fingers, frets, dampers, and soundboards to produce a huge range of sounds. With String Studio VS-2, we have expanded these possibilities with filters, effects, and other regular synth features. You will be amazed how far you can get with a string!"
String Studio VS-2 is available to buy for instant download delivery directly from Applied Acoustics Systems for an introductory discounted price of $99.00 USD (rising to $199.00 USD on July 1, 2014) (Note that this time-limited offer also includes the new Frontier String Studio VS-2 and AAS Player sound bank by artist and sound designer Daniel Stawczyk.) String Studio VS-1 users can upgrade to String Studio VS-2 for $39.00 USD.
Check out the dedicated String Studio VS-2 webpage for more detailed information.