Tracktion Software has announced the release of a new series of instructional videos for Tracktion 5 Music Production Software. The 35 video series from Groove3, a leading provider of training videos for today's popular music software and recording techniques, was produced and narrated by Bill Edstrom.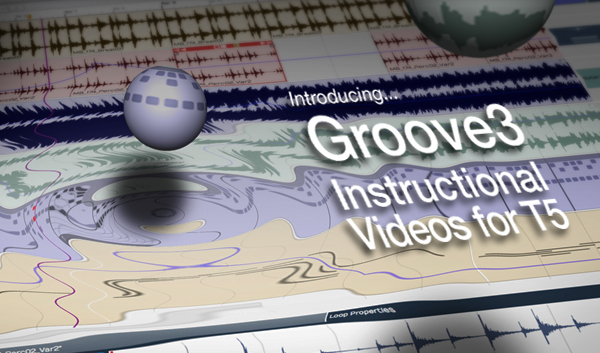 The first 11 of the 35 videos that cover the basics of T5 set-up and operation are available free of charge from either the Tracktion support videos page or the Groove3 YouTube page for Tracktion. The full series of advanced videos is available at the discounted rate of $25 directly from the Groove3 website . These are full of operational details to give even T5 experts a large cache of new tricks.
"It has been great to work with Tracktion again. TSC have built T5 with a tremendous amount of work and passion," commented Edstrom. "Not only have they modernized Tracktion, they innovated with cool new features like sequencer clips. The best part of making Tracktion 5 Explained was working with Woody and the TSC team. They were quick to answer my questions and even incorporated many of my suggestions right into Tracktion 5. I hope these tutorials help a new generation of Tracktion users unlock their own creativity using the unique power of Tracktion. "
In the video series, Edstrom covers everything from Installation to Recording, Using Effects, Mixing Down and more. Bill begins by showing How to Get Started with Tracktion 5 by reviewing the important basics such as Installation, Configuring Your Audio Interface, GUI Navigation, Using the Help Pop-Up Menus, etc. Next up, Bill dives in, explaining the Edit Tab, How to Use Markers, Selecting and Snapping Clips, Basic Audio Editing, Working with Loops, Tracks, and Keyboard Shortcuts.
Recording Audio is then revealed, and you'll learn how from the ground up starting with Setting Up to Record, Recording Your First Take, Overdubbing, Basic Editing, Comping, Using Amp Simulations and more. Bill now turns to all things MIDI in Tracktion 5 where you'll see how to Setup MIDI Tracks, the Different Record Modes, MIDI Editing, Quantizing, Sequencer Clips and other topics. Using Effects is now shown and Bill demonstrates How to Scan and Use 3rd Party Plug-Ins, the Built-In Tracktion Effects, Setting Up Effects in Different Ways for Different Tasks, Master Effects and Clip Effects. Wrapping up your Traction 5 journey, Bill gives you 4 awesome videos on Mixing in Tracktion 5. You'll learn How to Use Folder Tracks, Create Submixes, Use Automation and How to Mixdown to Wav and MP3 formats!
The Groove3 video series clearly illustrates that, while the "one screen wonder," Tracktion 5, is highly intuitive and easy to use, it is also an extremely deep and powerful piece of software. For more, visit www.tracktion.com