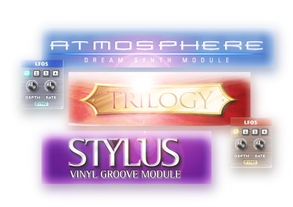 Spectrasonics has released new updates of their award-winning virtual instrument plug-ins Trilogy and Atmosphere that now include syncable LFOs The plug-ins are available for registered owners as a free download from the Spectrasonics website.
"We're very pleased to be able to offer our customers' number one requested feature to these instruments as a free update," said Spectrasonics Founder and Creative Director, Eric Persing. "People will love the new possibilities of creating interesting new rhythmic textures and pulsing effects."
The syncable LFOs allow a host program such as Pro Tools™, Cubase SX, Digital Performer, Garage Band or Logic to send tempo information to the plug-in and have the LFO rate "locked" to the feel of the music.
Pulsing effects, auto-panning, and rhythmic percussive effects all synced to the host's tempo, for example, can be easily created with these new versions. Atmosphere's vast core library notably benefits from syncable LFOs, as well as Trilogy's massive synth bass sounds.
The new 1.2 versions of Trilogy and Atmosphere also include numerous software code improvements, adding more stability, efficiency and compatibility for a wide variety of Macintosh OSX, and Windows host applications. In addition, Spectrasonics has also released a new version 1.1 update for its classic Stylus -Vinyl Groove Module, which benefits from these same code improvements.