Planned for release in September 2004, Hartmann Music announced their Neuron VS Software Synthesizer, a PC and MAC compatible application.
The software package includes Nuke, a USB hardware controller for use with the sofrware constructed with aluminium. Nuke is not only the controller for the software, but also a dongle to protects against piracy.
Neuron VS is built around the same sound engine found the Neuron Hardware Synthesizer. Neuron VS includes 2 Resynators, the Blender module, the Mod- and Slicer Module, a Silver Unit (Multimode Filter plus Time and Frequency Effect unit) and 7 ADSR Shapers. Unlike the Neuron Hardware Synthesizer, Modelmaker, Surround capabilities, 4 levels / 4 times Shapers, high-end Delay and Reverb are not included.
The Nuke Controller box: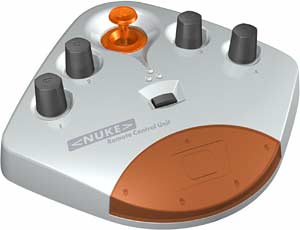 Neuron VS screenshot: