Native Intruments is excited to announce that the B4D Controller is now
available in stores worldwide.
The B4D drawbar controller is an ideal addition to NI´s award-winning B4
organ – giving direct access to every important parameter of the software
for a true-to-life organ experience. With a casing built from solid metal
and real wood, the controller is rugged as well as aesthetically pleasing.
And thanks to nine mechanical drawbars, two rotary knobs and 22 buttons, the
B4 not only sounds like, but also controls like the real thing, making it
more authentic and playable than ever before.
The B4D Controller is available for a suggested retail price of $ 449 / 399
Euro from authorized retailers and in the NI Online Shop.
Furthermore, the "B4D Controller Bundle" is on offer, additionally including
the B4 Organ as well as the "Vintage Collection" tone wheel expansion and
retailing at $559 / 499 Euro.
B4D drawbar controller: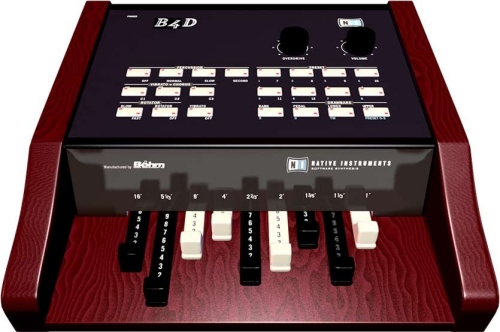 B4 screenshot: