MultiDynamics is a powerful multi-band dynamics processor useful for mastering, noise reduction, volume maximization, de-essing, and special tweaks. MultiDynamics provides up to 6 bands with independent compression or expansion/gating per band.
Up to 6 independent bands

Full featured compressor or expander/gate per band

Proprietary crossover filter network eliminates amplitude distortion between bands

18 dB/oct and 30 dB/oct crossovers

Per band bypass, solo and mute controls

Comprehensive visualization of input levels and dynamic EQ response

Adjustable knees and lookahead

Mono or stereo
For a limited time, MultiDynamics is available for an introductory price of $149.95.
Also, Wave Arts is proud to offer Power Suite: all our critically acclaimed plug-ins in one bundle, an essential set of tools which will excel as the effects processing foundation of any music production system.
TrackPlug- all-in-one 10 band EQ/compressor/gate

MasterVerb- silky smooth reverb

WaveSurround- stereo spatial enhancement

MultiDynamics- up to 6 bands of dynamics processing

FinalPlug- mastering limiter/volume maximizer
Power Suite has an introductory price of $499.95. Existing customers can get a discount on Power Suite by subtracting $100 for each version 4 product owned ($50 off for each version 3 plug-in).
Wave Arts plug-ins are available for Windows (DX, VST), Mac OS X (AU, VST, MAS, RTAS), and OS 9 (VST, MAS, RTAS).
Screenshot MultiDynamics: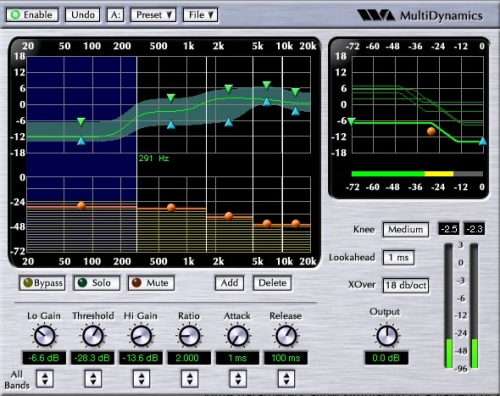 Screenshot Power Suite: