STL have released VAZ 2010 v2.0. A new demo version with a set of patches demonstrating the new features is available for download.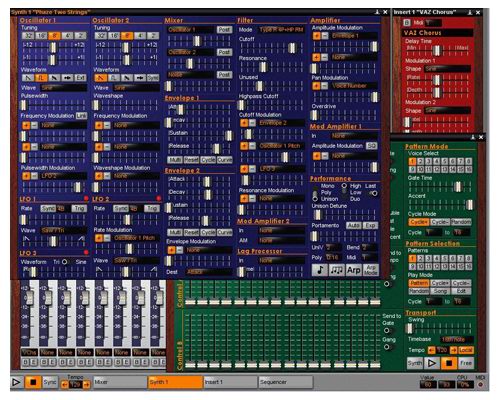 New Features:
– Next generation synthesis engine with higher quality oscillator and filter algorithms.
– Mixer inputs are all selectable for more flexibility.
– New filter algorithms: Type K and R modelling filters with self-oscillation, Comb Filter with a total of 8 new modes.
– Pan Modulation added to the Amplifier for stereo effects.
– LFOs 1 and 2 can sync to tempo and each have a selection of 8 waveforms.
– LFO 2 now has Rate Modulation.
– Envelope 2 has a modulation input which can control any combination of the Attack, Decay and Release times.
– Second Mod Amplifier added.
– Voice Number modulation signal.
– New effects: Compressor, Equalizer.
– Syncable LFOs for the Autopan, Flanger and Phaser effects.
– Import of VAZ Plus 2 patches.
– File dialogs can now be resized.
– Capture function is now available in the plugin versions.
– Global tempo for Sequencers and LFOs which can be locked to the host for the plugins.
– Sequencers have a swing function and selectable timebase.
– Sequencers can be triggered from MIDI (phrase playback) and work with the Arpeggiator to create rhythmic patterns.
– VSTi plugins can be hosted, receive MIDI on a selectable channel and can lock to the global tempo.
(Existing VAZ 2010 customers can upgrade via the VAZ 2010 v1 support area)