TC Electronic is pleased to announce that Finnish tech-pioneer Noveltech Solutions has joined the ranks of companies supporting the PowerCore platform. Noveltech Solutions has created Character™, a new optional plug-in for PowerCore. Far from being a traditional EQ or compression tool, Character™ identifies and enhances the characteristics of any given audio source.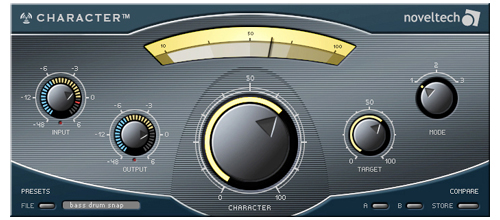 The main features of Character are:
– Dramatically reshapes the character of any sound
– The latest scientific research in digital signal processing and psychoacoustics
– 3 different processing modes ensure adaptability to all types of audio materialTarget parameter sets the relative frequency range of the characterization
– 3 different meters: input level, output level, and amount of characterization
– Extremely easy to use
Character by Noveltech will ship October 1st, 2004, at EUR 215 (ex. VAT) and $ 249 MSRP.