Roland is now shipping the DR-880, a rhythm-programming powerhouse that's loaded with world-class drum, percussion, and bass sounds from Roland's famous SRX library. It also includes a stunning collection of original waveforms. From rich, sparkling studio drums and deep-dish electronic kits to standard and exotic percussion instruments, the DR-880's sounds can be played and programmed as is, or customized with powerful tools such as independent compressors and EQs for the kick and snare, and a compressor and selection of COSM amp models for the bass.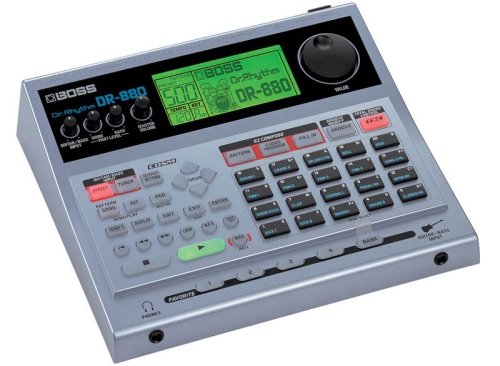 You can get microscopic with the DR-880, but you also have the option of taking the simple route with its three EZ Compose buttons on the front panel, which allow original patterns to be constructed without note-by-note programming hassles. Patterns can be taken deeper with the Groove Modify feature, where various groove and triplet feels can be applied. Ghost notes can also be added automatically.




Guitar and bass players can join the action by plugging directly to the
DR-880's Guitar/Bass Input jack. Guitarists can play through the built-in COSM Drive/Amp models and multi-effects such as chorus/flanger/phaser, delay, and reverb. For acoustic guitar, the DR-880 offers an Acoustic Processor, chorus, and reverb. Bass players can spice up their tone with the DR-880's compressor/limiter, chorus/flanger/phaser, delay, and COSM bass amp models.




In addition to an array of analog audio I/O, the DR-880 also has a S/PDIF digital out and a USB port for MIDI interfacing and SMF Data import.