E-MU has announced the Proteus X Desktop Sound Module for Windows PCs that offers the synthesis and Z-Plane filters of E-MU's sound modules, with the disk streaming, file management and interface advantages of software instruments.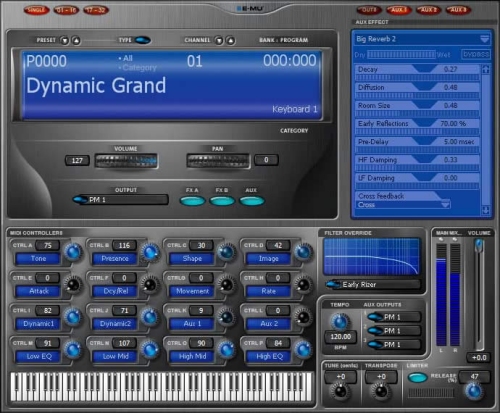 Proteus X is the culmination of over 15 years of sound module development, including E-MU's patented pitch interpolation, all controlled by an interface that lets you dial in the right sound. Proteus X ships with E-MU's 0404 Digital Audio System 24-bit/192kHz audio interface, and features comprehensive WDM, DirectSound and ASIO 2.0 drivers for Windows 2000 and XP.




Proteus X ships with over 2GB of sounds and thousands of presets, including a Stereo Grand Piano, the full Proteus 2000 soundset (includes all 1024 original presets), a Hip-Hop producer bank, Beat Shop 24-bit drums and grooves, and many more. You can also expand your Proteus X with soundsets from some of E-MU's most popular sound modules, like the Mo'Phatt, Virtuoso 2000 and Planet Earth, as well as any CD-ROM from the Emulator X library. Proteus X also supports a host of other sound formats, including EOS, EIII, GigaSampler, Akai, HALion, EXS24, SoundFont 2.1, WAV and more. Proteus X also gives you some flexibility in how you play these sounds, offering both standalone and VSTi functionality, and supports both hard disk streaming and playback from RAM.




Proteus X offers a powerful synthesis engine with 36 patch cords per voice, over 50 Z-Plane morphing filters, multi-wave LFO's, conditional voice modulation, clock modulation and a host of other synthesis features and parameters. Proteus X also offers powerful effects processing, featuring two discrete software effects processors with MIDI modulation, plus three effects processors per Multi Setup — up to 67 simultaneous effects. Proteus X's DSP chip delivers additional hardware-accelerated effects (with over 600 presets) that can be used standalone or as VST plug-ins within your favorite audio/sequencer program with no CPU load on your computer, as well as 32 channels of zero-latency hardware mixing and monitoring.




E-MU's Proteus X is scheduled to ship in November 2004 with an estimated US street price of $149.99.