Mackie announced today that Apple's Logic Pro 7 release includes support for the highly-anticipated Mackie Control C4, a sophisticated plug-in and virtual instrument controller that provides four banks of eight V-Pots each, and four full-size displays that provide instant access to as many as 32 software parameters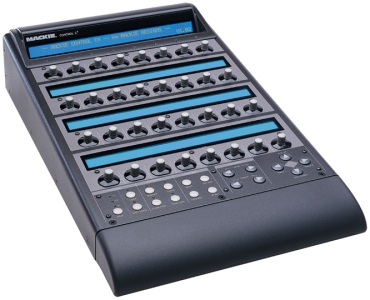 "This release is a tremendous show of support for the Mackie Control Universal and Logic Control platform, as well as for those Logic users that have been anxiously awaiting software support for the C4 since its introduction." commented Ken Berger, Sr. Vice President of Marketing for Mackie. "But this is really just the beginning. We've also been working closely with developers of other popular DAW software and are looking forward to introducing the versatility of Mackie Control C4 to their customers in the near future."




The Mackie Control C4 eliminates the need to constantly "bank switch" a standard control surface display in order to access parameter-rich software modules. It features multiple displays and corresponding knobs for simultaneous access of up to 32 parameters of a given software module. Function buttons beneath the displays and knobs allow users to select the arrangement of those parameters and how they show up on screen. The Mackie Control C4 also acts as a "quick fix" tool for fader and pan settings across 32 channels, and can be used independently or in concert with Mackie Control Universal, Logic Control, as well as Mackie Control Universal and Logic Control Extenders.




The Mackie Control C4 has a manufacturers suggested retail price of $1,299 (USD) and will be available through authorized Mackie dealers in Q4 2004.