Native Instruments is excited to announce BATTERY 2 – the new generation of the award-winning drum sampler. BATTERY 2 takes drum sampling to the next level with a powerful new sampling engine, enhanced sound shaping and modulation capabilities, sophisticated sample control and a revised user interface that retains all of the straightforwardness that BATTERY is famous for. Also included is a massive new sample library with more than 3.5 GB of high-quality drum and percussion samples.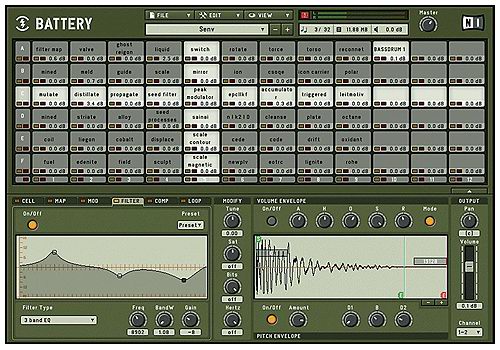 Optimized for today's complex drum kits and large sample sizes, the new
sampling engine of BATTERY 2 offers features like 256 voice polyphony and
support for hard disk streaming. Creative possibilities for both studio and
live use are enhanced considerably through a host of new sampling features,
including polyphonic voice groups with overlap, release trigger, advanced
"cell activation" options and a new visual mapping editor.


The user interface of BATTERY 2 is now customizable and can accommodate anything between 9 and 72 cells, to adapt for drum kits of different sizes without wasting precious screen real estate. Sound shaping is also dramatically enhanced, with each cell now including both a compressor section as well as a versatile multimode filter with 15 filter types,
ranging from 6-pole resonant low pass to parametric equalizers as well as comb and vowel filters. Combined with vastly expanded looping and modulation features, including an additional envelope and LFO for each cell, these new features make BATTERY 2 the ultimate drum sample powerhouse.


BATTERY 2 now reads more sample formats than ever, including Kontakt, Gigasampler and Rex 1/2, and offers a dedicated import browser for convenient file import. The included sample library offers 23 inspiring drum kits ranging from painstakingly recorded acoustic drums and percussion to cutting-edge electronic drum sounds for all styles and genres. An updated and optimized version of the popular BATTERY 1 library is also included. With the sample content weighting in at more than 3.5 GB, BATTERY 2 is available on DVD-ROM only.
BATTERY 2 will be available in November 2004 for a suggested retail price of $239 / 199 Euro from authorized dealers and in the NI Online Shop. An upgrade for owners of BATTERY 1 will be available for a $119 / 99 Euro.


For more information as well as for audio demos in MP3 format, please see:
www.native-instruments.com/battery2p.info