Synthesizer Legacy Bundle gives a new sonic palette boost by offering three dedicated synthesizers:
– discoDSP Discovery: Virtual Analog VSTi Synthesizer featuring multi layering, built-in arpeggiator, sync, FM, 8 filter types, panning modulation, stereo delay and gate effects. Imports Nord Lead 2 sysex patches. Includes more than 3.500 presets.


– discoDSP Phantom: Eight voices, four operators PM/FM synthesizer, featuring the same Discovery parameter morphing capabilities. Imports Yamaha DX100, DX27 and DX21 SysEx data. Including 256 preset, 64 of them designed by Scott Solida.


– discoDSP Vertigo: Additive synth with resynthesis and morphing capabilities. Vertigo resynthesis engine was pioneer into VST software synths and currently the only one capable of accurate complex musical phrases like drumloops, speech or simple tones recreations, based on his 256 partials engine. Includes 128 high quality presets.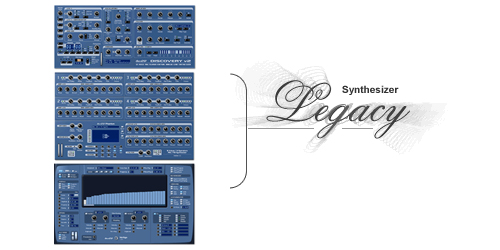 Trial is already available to download (30 MB). You can purchase Synthesizer Legacy for $249, 195 € or £139 (using 128bit secure connection).


Previously registered discoDSP users are available to cross grade for a special price. Please send your inquiries to crossgrade@discodsp.com