Steinberg, the audio group of Pinnacle Systems Inc. is excited to announce the latest version of its acclaimed Nuendo Media Production System software. Nuendo 3 offers new features and technologies for top-level professionals in post production, surround mixing and high-end studio recording, mixing and editing.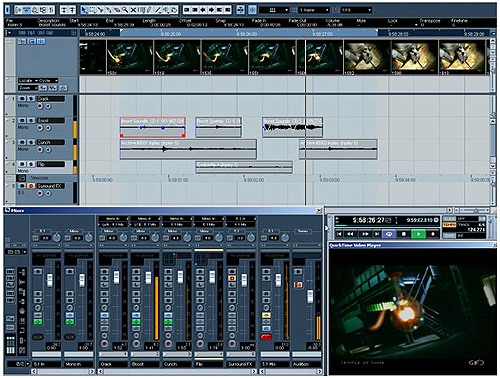 Post Production:

Nuendo 3 sees a marked strengthening of functionality for post production in cinema, DVD and video. Out of the box import and export of a huge variety of file formats include the AAF (Advanced Authoring Format), providing project transfer to and from other DAW and video editing systems, as well as current industry standard exchange formats such as OMF, OpenTL and AES31. Integration of Pinnacle's X-Send protocol allows video projects completed in Liquid to be imported directly to Nuendo 3, ready for audio post. Nuendo 3 also introduces a new set of Media Management tools that allow fast, easy handling of large audio file libraries from the Nuendo Pool, including file categorization, batch file-naming and extended search functionality. The new Warp To Picture feature offers a uniquely quick and efficient approach to synchronizing audio to picture by allowing the real-time timestretching of audio material with simultaneous real-time tracking of the corresponding video track.


Mixing and Surround:

Building on the advanced surround architecture already implemented in Nuendo 2, the latest Nuendo version adds refinements for surround producers including a new MixConvert plug-in, the powerful yet discrete Linked Panners feature and many other innovations. An innovative new mixing feature is the new Audition Channel, which provides flexible new monitoring options including both after and pre-fader listen modes, allowing instant checking of any audio channel while leaving the signal routed to the main mix bus untouched. Integrating external effects equipment is now astoundingly simple thanks to the new External Effect Plug-in, which allows the direct integration of outboard effects within the Nuendo 3 VST Mixer –including delay compensation, of course.


Recording:

Since its introduction to the professional audio market in 2000, Nuendo has seen a meteoric rise to fame, becoming the workhorse of many recording studios around the globe. Nuendo 3 sees the introduction of new functionality that looks set to cement its reputation as one of the leading recording, editing and mixing DAW products available. Real-time Audio Warp timestretching and pitchshifting allows instant remolding of audio material to dynamically adapt to project tempi in realtime, and also offers lightning fast, quality drum timing correction. The convenient 10-minute pre-record function automatically records all audio routed to Nuendo 3, so even if an engineer did not have record engaged for a take, it's still safely recorded to disk.
Prices and availability:

Nuendo 3.0 Full Version SRP $1999.00

Nuendo 3.0 Update from Nuendo 1.x SRP $699.00

Nuendo 3.0 Update from Nuendo 2.x SRP $499.00



Special Update Offer – ends 31.01.2005



Nuendo 3.0 Update from Nuendo 1.x SRP $419.00

Nuendo 3.0 Update from Nuendo 2.x SRP $299.00



Nuendo 3 will be shipping in late November 2004.