The free update will add four more stomp boxes to the guitarists arsenal, all painstakingly modelled after popular real world units. Offering two distinctive new flavours of both classic fuzz overdrive and powerful hi-gain distortion, version 1.2 makes NI's critically acclaimed digital guitar studio even more powerful.


The new features of GUITAR RIG 1.2 in detail:

– Fuzz Ace (fuzz pedal based on Arbiter™ Fuzz Face™)

– Big Fuzz (fuzz pedal based on Electro Harmonix™ Big Muff™)

– Cat (distortion pedal based on ProCo™ Rat™)

– Demon Distortion (distortion pedal based on MXR™ Dime Distortion™)

– More than 40 additional presets which make use of the new components

– Various minor improvements, cosmetic changes and fixes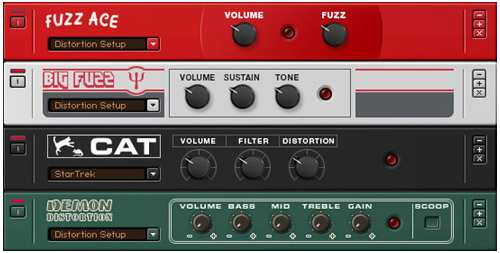 The 1.2 update for Windows and Mac will be available as a free download for all registered GUITAR RIG users in the first half of November.