Propellerhead Software announced version 3.0 of Reason, an update that focuses on live performance, taking Reason from the studio realm to the stage.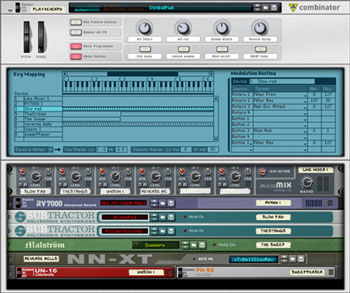 One of the new modules is called COMBINATOR. This module is designed to combine (chain) several instruments, FX and sequencing modules. These combinations can be saved as COMBI patches. This feature makes it very easy to recall complex setups. Again, very easy for live performances!


Users of Reason often have made requests to Propellerhead to make it possible to incorporate third party software like Audio Recording, VSTis, VST plugins and other DAW-type features. But there is no consideration for these request in Reason 3.0 as well. Propellerhead states that the Reason software is still the BEST software alternative to any hardware music production solution. Even more now since version 3 has the same capabilities for composition, production and live performance.


Another new interesting feature within Reason is the MClass module. This module is a mastering suite:

– 4-band parametric and shelving EQ

– compressor/maximiser

– (look ahead) limiter



Next to these module additions there are several usability improvements like:

– new browser featuring text searches

– favorites folder

– audition play off samples and patches via midi

– out-of-the-box integration for major control surfaces, including motorised faders support and controller displays


Untill the official release of Reason 3.0 in early 2005, Propellerheads are looking for beta testers of the new version. If you are a registered user of Reason visit www.propellerheads.se for more information on becoming a beta tester for Reason 3.0.