In conjunction with Ohm Force this beast has been a long time in development and GForce were very excited to be showing it publicly for the first time at this year's NAMM show in LA.
The Minimonsta from GForce is an expert emulation of the classic Minimoog that was at the forefront of the analog synth revolution and made famous by artists like Jan Hammer, Rick Wakeman, Keith Emerson, Chick Corea, Gary Numan and Kraftwerk. Every component of the triple-oscillator vintage synth has been faithfully modeled with stunning realism—and then some. The Minimonsta is fully programmable, ships with over 2500 presets and can even morph between presets within a bank for unprecedented control. There's also an additional LFO and ADSR that can be applied to just about any parameter, as well as delay. You can even play the Minimonsta in monophonic, polyphonic or unison modes. This true players' instrument runs as a stand-alone application (Mac/PC) or as a plug-in for most popular host applications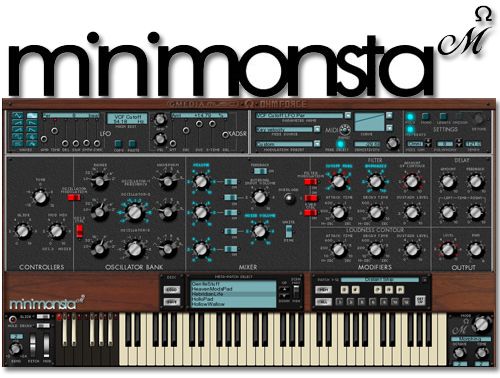 Features:

– expertly crafted analog model of the classic Minimoog synthesizer

– all original features including 3 VCOs and 4-pole 24dB/octave VCF

– additional LFO & ADSR for matrix modulation of almost every parameter

– monophonic, polyphonic, legato and unison trigger modes

– fully programmable with over 2500 factory patches

– real-time morphing between up to twelve patches via keyboard control

– external input allows filter to be used as plug-in effect

– full automation support with MIDI learn with storable Continuous Controller maps

– delay effect

– stand-alone or host operation (RTAS (PC/Mac), VST (PC/Mac), Mac AU)



We have no information yet on shipping date or pricing. For more information visit www.gmediamusic.com or check out our product page (link below).