MOTU has announced the MOTU Symphonic Instrument, a cross-platform instrument plug-in that gives users quick and easy access to an 8GB library of quality orchestra sounds for composing, sequencing and rendering realistic orchestral performances. The MOTU Symphonic Instrument can be used with any compatible host application (VST, Audio Units, DXi, MAS and RTAS), where users can load up to sixteen different instruments per instance of the plug-in to create ensembles of any size and scope. Built-in convolution reverb allows users to place their ensemble in authentic acoustic spaces, from orchestra sound stages to renowned concert halls to majestic cathedrals. Easy to use controls let users further adjust each instrument to achieve the perfect sound. Sounds can also be directly loaded into MOTU's MachFive sampler plug-in for more advanced layering and programming.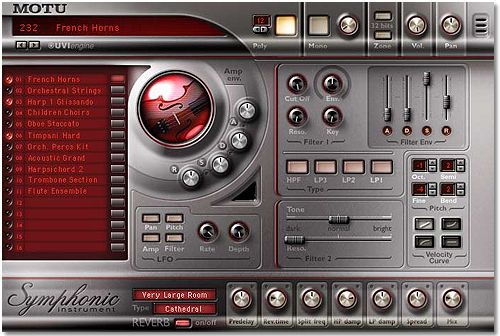 From solo instruments and small ensembles to full tutti orchestra and choirs, the MOTU Symphonic Instrument's 8 GB library includes strings, brass, woodwinds, orchestral percussion, male and female choirs, pipe organs, period instruments and pianos and even timeless classics, including Steinway D and Yamaha C7 pianos. Instrument highlights include:

* Strings: Violin Section, Viola Section, Cello Section, Bass Section, Solo Violin, Solo Viola, Solo Cello, Solo Bass, Harp.

* Brass: Trumpet solo, Trumpet ensemble, Piccolo Trumpet, Flugel Horn, French Horn solo, French Horn ensemble, Trombone solo, Trombone ensemble, Bass Trombone, Tuba, Contrabass Tuba.

* Woodwinds: Flute solo, Flute ensemble, Alto Flute, Piccolo, Clarinet solo, Clarinet ensemble, Bass Clarinet solo & ensemble, Oboe solo, Oboe ensemble, Oboe D'Amore, Bass Oboe, English Horn, Bassoon solo & ensemble, Contra Bassoon.

* Orchestral Percussion: Timpani, Orchestral Cymbals, Orchestral Snare & Bass Drum, Gong, Tubular Bells, Mallets, Celesta, Glockenspiel Marimba, Vibraphone, Xylophone.

* Tutti: Complete Orchestra, String Orchestra, Brass Orchestra.

* Choirs: Women's Choir, Men's Choir, Children's Choir, Solo Soprano, Solo Tenor.

* Pipe Organ: Baroque Organ, Romantic (cathedral) Organ.

* Piano: Steinway D, Yamaha C7.

* Historical Instruments: Harpsichords, Piano Forte, Viole.
The MOTU Symphonic Instrument will ship in Q1, 2005 with an MSRP of US$295. For more information please visit www.motu.com or check out our product page (link below).