TC Electronic introduces the VSS3 Stereo Source Reverb for PowerCore, a direct port of the legendary reverb algorithm from TC's System 6000, and arguably the first truly high-end VST/AU reverb for digital audio workstations. The VSS3 algorithm is made up of nearly 800 parameters, all of which have been condensed into a simple user interface with clear choices at all levels. Industry-standard presets and customizable focus fields from System 6000 are included to facilitate easy start-up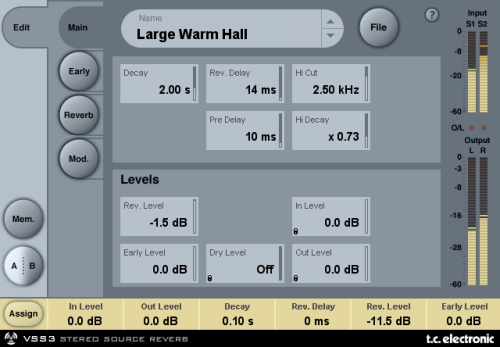 VSS3 is a source reverb, which contributes more depth and distinction to the mix while at the same time adding character and definition to any given source. TC Electronic uses Virtual Space Simulation (VSS) to accurately recreate the natural characteristics of acoustic spaces. This is accomplished through extensive processing whereby the early reflected signals are manipulated separately from the decay or reverb tail of the signal. It is these separate components that are responsible for the character, localization and spaciousness of a room. Just as actual rooms respond differently to the same signal, TC uses chaotic response algorithms and sophisticated modulation patterns to create reverbs with uncanny realism.
Until now TC Electronic reverbs based on this approach have only been available in hardware form – M3000, Reverb 4000 and System 6000. VSS3 defines TC Electronic reverb, and it is now available to DAW users via the PowerCore platform.
VSS3 Stereo Source Reverb will be shipping in February at 495 EUR retail ex. VAT. For more info check out our VSS3 product page (link below).