The V-Synth Reloaded

Roland's flagship mega-synth grows even stronger with the release of Version 2 software. This user-installable system upgrade adds significant new features to the already-powerful V-Synth, including brand new, never-before-heard patches for performance, the Sound Shaper for patch-programming assistance, a Multi Step Modulator for animating sounds, new SuperSaw, Feedback, and X-mod Oscillators, and Rhythm-Sets for unparalleled drum kit manipulation.



New Patches.
V-Synth Version 2 has totally new Patches and VariPhrase waveforms onboard. The "V-Synth Producer Edition" is a collection of highly playable sounds from top professional artists around the world. Many of the sounds are familiar at first touch — sparkling EPs, lush strings, thick synth leads, etc. — but, in V-Synth fashion, all patches allow instant and exotic tonal changes via modulation.



Start on familiar terrain, then launch your sounds into deep space V-Synth style! The Multi-Step Modulator makes complex animated sound design easy; use it to automatically sync sounds with other modulators. Analog modeling gets upgraded with SuperSaw, for generating multiple sawtooth waveforms in unison, the Polyphonic Feedback Oscillator for screaming sounds, and X-mod (cross Modulation) Oscillator for creating clangorous distorted timbres. All these can be modified and modulated through multiplex synthesis only available from V-Synth.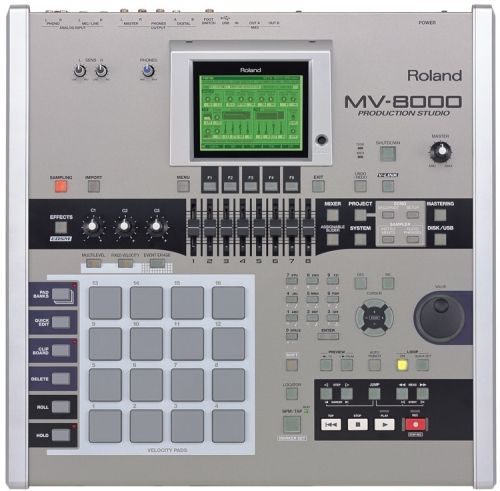 MV8000 Version 3:

From making beats to sampling and CD-burning, the MV-8000 Production Studio does it all—quickly and elegantly. Sample your own sounds or import Roland, Akai, ACID and .WAV libraries, then arrange it all using 16 velocity/aftertouch-sensitive pads and Roland's most powerful audio/MIDI sequencer. Add a selection of professional COSM effects, onboard mastering tools, a built-in CD-RW drive and USB port, and you've got the ultimate studio for today's producers.



Introducing VGA expansion for the MV-8008.

It's even easier to take control of your beats and your mix with the new MV8-VGA expansion board, exclusively for the MV-8000. This easy-to-install board lets you connect any VGA-compatible monitor directly to the MV-8000, creating a big-screen working environment. Mouse support is also added with this upgrade; optical mouse included.