The PS-1 Performance Synthesizer is the result of an exciting collaboration between ProSounds and DASH Signature and has been designed with the advanced sound designer and electronic musician in mind, incorporating a large number of high-end features while still maintaining ease of use with its intuitive user interface.

The PS-1 is a VST instrument plugin for Windows featuring four multi featured oscillators, custom WAV file import (with over 80 waveforms included!), a mixer, 2 resonant multimode filters (routable in both serial and parallel), two Low Frequency Oscillators (LFOs) and two ADSR envelope generators. The PS-1 also includes some advanced performance features, such as a powerful arpeggiator and trancegate, as well as an effects unit. The effects unit features four high quality effects including an ultra fat double chorus, a superb digital delay with modulation, a distortion unit, and a reverb unit.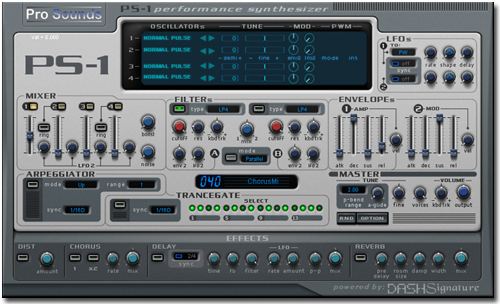 The PS-1 also includes over 1000 professionally designed factory presets covering a wide range of different sounds (basses, pads, leads, sound FX, arps etc.) and suitable for every genre.


Pricing & Availability: The PS-1 Performance Synthesizer has now been released and is priced at EUR €119. For more information and specifications please visit our PS-1 product page (link below).