Toxic is the next step in Maxx Clasters development of FM technology. It is based on eJ's sound engine, but with many improvements and new features. The incorporation of SSE instructions the code lets TOXIC reach unsurpassed quality while keeping CPU useage to a minimum. This being said, Maxx Claster is proud to introduce the result of these efforts – the Toxic synthesizer!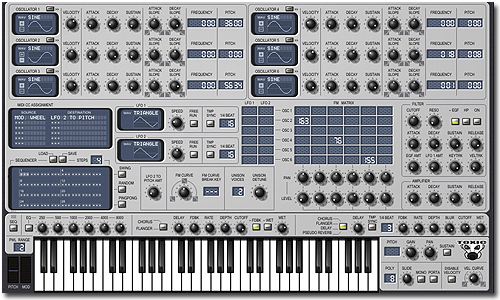 Features:

* 6 high quality oscillators, which are completely alias-free over the entire spectrum range and well tuned for all sampling rates. There are 47 waveforms to choose from, including classic shapes as well as some unclassified waveforms that are rich in harmonics.

* Each oscillator has ADS envelope generator of the highest quality. Toxic's envelope generators are based on complex spline interpolation algorithms that were painstakingly coded to make them extremely precise and smooth.

* Toxic has a 32 step sequencer/arpeggiator, it defines the chord played and tunes the pattern according to that chord as well as simply playing the pure pattern while holding single keys.

* 2 LFOs can modulate the oscillator's amplitudes, pitch and the filter's frequency, and both can be used as a trance gate.

* The LP/HP filter with keyboard and velocity tracking.

* Three effect modules: a 6-band equalizer and two delay modules which allow the user to produce several types of effects – from chorus and flanging to delay and reverb. The effect modules effectively recreate analog effects resulting in warm sound and no digital clicks when tweaking time knobs.

* Non-Clicking Controls: all parameters of the synth are interpolated when you tweak them, and there is no noise when you adjust knobs or buttons.



Toxic costs 69 EURO but is available for 35 EURO for registered users of eJ until April 2005. A demo version is available at www.maxxclaster.com or check out our TOXIC productpage (link below).