The TT-04 is sure to leave the competition in the dust, with its unprecedented 5.0kg/cm CPU controlled motor system, as well as a rubber dampened magnetic platter, for the quickest starts and strongest stable operating torque of any turntable in existence. The motor can even be adjusted for start and brake by means of convenient, retractable rotary controls.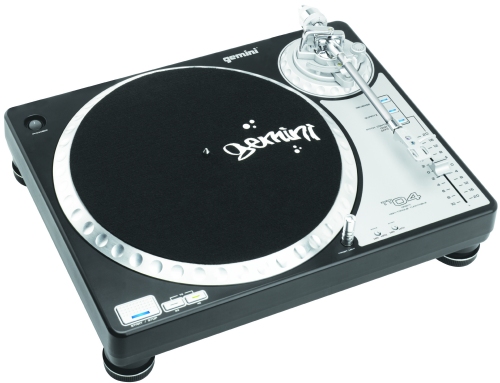 In addition to its high performance motor, it is also fitted with a virtually unskippable straight tone arm system with height adjustment (up to 6mm), which is sure to hold the groove, even during the most vigorous scratching and turntable tricks. To minimize feedback from vibration, the metal-reinforced base of the TT-04 is rubber coated, providing an extra level of dampening.



Additionally, the TT-04 provides a set of features heavy on usability and light on fluff, such as a +/- 10% pitch control with switchable +/- 20% mode, reverse and quartz lock buttons – all with LED indicators, a removable, easy-to-replace bright white LED target light, and detachable RCA and ground cables.



All of these features are brought together by a fashionable, sturdy black plastic body, with a stylish metal plate, defining the pitch control section. The TT-04 is sure to satisfy any enthusiast, even DJ purists, with its carefully designed set of features and solid construction and the highest torque of any table on the market.



The release date will be April 2005. The TT-04 has a price of $519.95.