The Golden Audio Channel has been launched by Kjearhus Audio. This plugin offers all the essential tracking effects in one. The GAC-1 includes all you need to make top-notch audio tracks and mixes. It features two equalizers, two compressors, a noise-gate and a de-esser.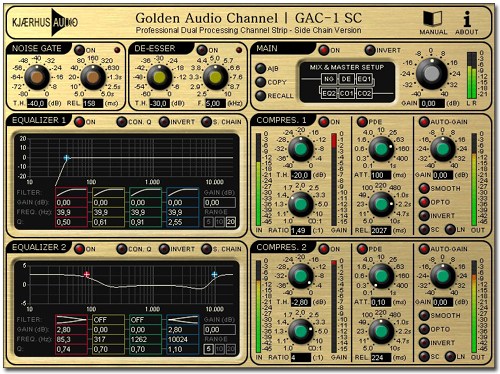 All components of the GAC-1 are of the highest quality. The internal effects are interconnected with ten selectable routings, including normal instrument setups, dual band setups, and special setups like mid-side processing and compression based on side chain filtering. With the double EQ and Compressor architecture, the GAC-1 offers outstanding sound possibilities that are not possible with single processing. But even with all of these features, it is still easy to use. Three versions are available: stereo, stereo with side chain, and mono with side chain. There is no latency, which makes this the ideal tool for real time performance in the studio or on stage.
The GAC-1 is part of the Gold Series which combines the sound and functionality of advanced vintage gear with classic signal processing methods, producing a highly desirable sound. The Gold series is made in close collaboration with professional musicians, producers, and technicians to ensure we produce a product that does not only sound good, but covers the needs of functionality in the studio and on the stage as well. All processing is done as 64 Bit floating-point operations and all Plugins supports up to 192 kHz sampling rate. Additionally, over sampling is done when it is necessary to ensure the highest quality. All of the Gold Series Plug-ins works in real time (no latency delay), making them the obvious choice for live gigs as well as in the studio.


For more information on the GAC-1 please visit www.kjaerhusaudio.com/gold-series.php or check out our product page (link below).