Apple today introduces Soundtrack Pro, a new application that gives audio and video professionals a flexible way to create, control and fix audio. Soundtrack Pro features a waveform editor with flexible Action Layers that allow users to instantly re-order, bypass or change any edit, effect or process. Intelligent Find-and-Fix features quickly identify and repair common audio problems such as background noise, pops, clicks and hum. It also includes full multitrack editing and mixing, over 50 effect plug-ins from Apple's award-winning Logic Pro 7, and more than 1,000 sound effects.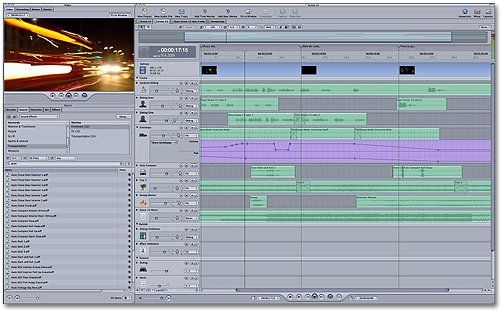 With over 50 plug-ins including Space Designer, Match EQ and Linear Phase EQ from Apple's Logic Pro 7 music creation and production software, Soundtrack Pro provides a powerful set of tools for audio and video professionals to sculpt the perfect sound for their productions. Soundtrack Pro comes with over 5,000 Apple Loops that add depth to the action and emotion of pictures with musical elements and sound effects ranging from earthshaking explosions and whooshes, to subtle ambient effects.


An integrated mixer in Soundtrack Pro with control surface support enables audio pros to interact with audio tracks using a familiar interface. Audio pros can apply common effects to multiple tracks and group common tracks using busses. Support for Mackie Control surface protocol allows sound editors to use hardware faders and knobs for tactile control over mix parameters to delve deeper into creating the perfect mix.
Pricing & Availability:

Soundtrack Pro will be available in May through the Apple Store, Apple's retail stores and Apple Authorized Resellers for a suggested retail price of $299 (US). Soundtrack Pro is available as part of Final Cut Studio, Apple's ultimate HD video production suite which includes Final Cut Pro 5, Motion 2, DVD Studio Pro 4 and Soundtrack Pro for a suggested retail price of $1,299 (US).


For more information, visit their web site at www.apple.com, or check out our product page for more details and images (link below).