Apple has announced that Mac OS X version 10.4 "Tiger" will go on sale Friday, April 29, beginning at 6:00 p.m. during special events at Apple's retail stores and Apple Authorized Resellers.

Musicians, audio pros and music educators have long recognised the Mac as a superior platform for creativity. Historically, third-party developers augmented the native capabilities of Macintosh with a wide variety of hardware, software and system add-ons, making it possible to use the Macintosh as a virtual recording studio.


Mac OS X Core Audio integrates a range of audio functionality directly into the operating system in ways never before possible, enabling unprecedented performance and ease of use in your virtual studio. Core Audio lays a new foundation for the next generation of world-class audio and music applications from innovative developers.
Breathtaking Performance:

Mac OS X delivers the best audio performance in desktop computing. The most fundamental measure of audio performance is throughput latency — the time it takes for audio to enter your Mac, travel through the system to your application and then pass back out to your monitoring system (speakers).


Device Aggregation:

Mac OS X Tiger now allows you to use multiple audio or MIDI devices together to increase the number of channels of input or output. You can combine devices of like sampling rate and resolution together — whether via FireWire, USB or PCI — into a single aggregated device. Set up is easy via Audio/MIDI Setup, and your new "virtual" device will automatically show up in all Core Audio-based applications.


Core Audio Format:

Core Audio Format is the latest addition to the dozens of audio formats supported natively in Mac OS X. Developed by Apple, Core Audio Format (CAF) combines virtually infinite capacity with rich support for metadata in an optimised-for-audio package. As a 64-bit file format, you can record a thousand channels of audio for a thousand years in a single file. And it can store any audio data, whether uncompressed PCM or compressed such as AAC.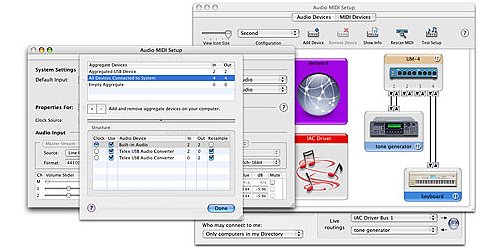 Plugged In:

Working digitally lets you easily manipulate audio and add special effects. It's trivial to reverse a sample or add simple reverb to make your music sound as if it were recorded in a a huge concert hall or the in the bathroom at CBGB's. Mac OS X Core Audio provides a system-level plug-in architecture called Audio Units.


MIDI Thru and Thru:

Mac OS X integrates MIDI (Musical Instrument Digital Interface) Services directly into the operating system for increased stability and performance. Audio MIDI Setup allows you to easily manage your MIDI needs and define a system-wide MIDI configuration that is available to all of your applications.


Optimised for G5:

The Power Mac G5 is the ultimate machine for audio professionals, with capabilities that are not usually found on personal computers. The state-of-the-art optical digital audio in and out ports use the S/PDIF (Sony/Philips Digital Interface) protocol over Toslink cables for connecting to devices such as decks, receivers, digital instruments and even 5.1 surround-sound speaker systems. And Mac OS X is specially tuned for the G5 processor, providing a seamless transition to 64-bit power with optimised math libraries that let today's applications take advantage of tomorrow's power.
Pricing of TIGER is 129 euro for a single user license and 199 euro for 5 user license.

TIGER requires a minimum of 256MB of memory and is designed to run on any Macintosh computer with a PowerPC G5, G4, or G3 processor and built-in FireWire.