Basement Arts announces Frantic, a new state of the art filter plugin for Windows VST. After nearly 2 years of development the Basement Arts team is proud to present Frantic Filter. Frantic introduces an analogue sounding dedicated filter into the modern digital production environment.

The VST-PlugIn sets a new standard in digital signal processing and was modelled after famous analogue legends like the Korg MS20, Oberheim Xpander, OSC Oscar, Sherman Filterbank and the classic Moog Filter.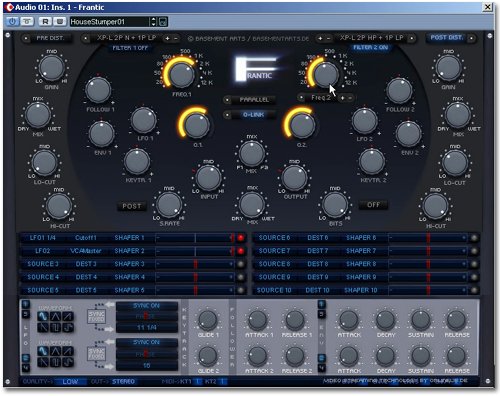 But Frantic is more than just a simply awesome sounding filter. The Filter Separation known from the lovely Oscar gives that creamy delicate sound but offers much more filter combinations than the original. We combined the different classic filters with an easy to use interface that can do basic modulations quickly and intuitively yet it is also capable of complex audio surgery via the central modulation matrix. The matrix offers a tricky shape X with Y feature that was inspired by the Crumar Spirit and gives access to some unique stereo modulations of the 2 true stereo filters.
Frantic ships on May 15th 2005. An introduction offer is priced at 99 euros (instead of 129 euro normal price). The offer is valid until May 15th 2005. More information available at www.basementarts.de or check out the screenshots on our product page (link below).